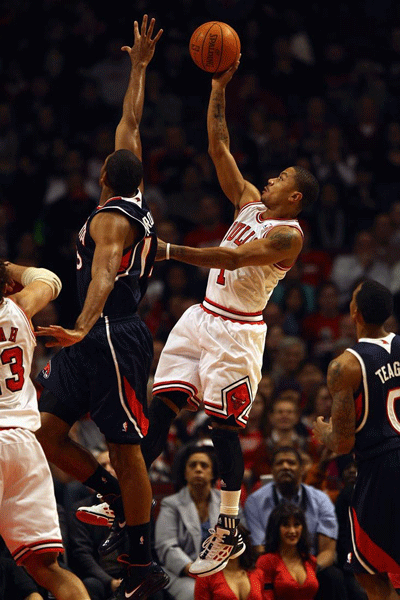 Derrick Rose of the Chicago Bulls shoots over Al Horford of the Atlanta Hawks at the United Center on January 3, 2012 in Chicago, Illinois. [Source:Sina.com]
Luol Deng's layup with 3.7 seconds to play lifted the host Chicago Bulls to a nail-biting 76-74 comeback victory over the Atlanta Hawks in the NBA yesterday.
Derrick Rose scored 17 of his 30 points in the fourth quarter to rally the Bulls from a 19-point deficit. Coming out of a timeout with the score tied in the final seconds, Deng cut along the baseline and took a feed from Joakim Noah to put Chicago ahead.
Atlanta's Joe Johnson shot an airball at the buzzer, giving the Bulls the win.
Rose had missed a runner with 21 seconds left, but Atlanta's Jeff Teague then missed two free throws. Rose scored with 9.9 seconds left to put the Bulls up 74-73.
Al Horford, who led the Hawks with 16 points, was fouled and split two free throws with 7.7 seconds remaining.
LAKERS 108, ROCKETS 99
In Los Angeles, Kobe Bryant scored 37 points to power Los Angeles past Houston.
Andrew Bynum had 21 points and 22 rebounds in the first 20-20 game of his career but needed Bryant's brilliance and tough defense in a tight fourth quarter, holding the Rockets without a field goal for just under 6 minutes.
Bryant scored seven consecutive points in the closing moments of the Lakers' third straight win over the Rockets at home.
Kyle Lowry scored 22 points to lead Houston.
JAZZ 85, BUCKS 73
In Salt Lake City, Al Jefferson scored a season-high 26 points to lead Utah past undermanned Milwaukee.
Paul Millsap had 13 points and 12 rebounds, hitting a jump shot to clinch the game with 1:07 to play.
Drew Gooden had 24 points and 12 rebounds for the Bucks, who missed the inside presence of center Andrew Bogut, who was absent for personal reasons, while Mike Dunleavy was out with groin pain.
Led by Brandon Jennings' 4-for-19 performance, the Bucks shot just 31 percent and had 10 shots blocked by the Jazz, including a career-best five by Derrick Favors.
TRAIL BLAZERS 103, THUNDER 93
In Oklahoma City, LaMarcus Aldridge had 30 points and eight rebounds to help Portland beat Oklahoma City.
Wesley Matthews added 16 points for the Blazers, who held the Thunder to 34 percent shooting in the second half on an off night for All-Stars Kevin Durant and Russell Westbrook.
Westbrook scored 22 points on 8-for-18 shooting and Durant finished with 19 points while hitting 8 of 26 shots. James Harden made his sixth career start and led the way for the Thunder with 23 points.
GRIZZLIES 113, KINGS 96
In Memphis, Rudy Gay scored 23 points in Memphis' win over Sacramento.
Sam Young added 20 points for the Grizzlies, who outrebounded Sacramento 49-41.
With Memphis holding a double-digit lead for a bulk of the second half, the Kings' reserves got extended minutes. Rookie Jimmer Fredette scored 17 points to lead Sacramento.
CAVALIERS 115, BOBCATS 101
In Cleveland, Kyrie Irving scored 20 points and fellow rookie Tristan Thompson added 16, leading Cleveland past Charlotte.
Cleveland continued its strong 3-point shooting, making 10 of 21 from behind the arc, having shot 16 and come within one longshot of equaling the franchise record on Sunday.
Charlotte has lost four straight since opening the season with a win. D.J. Augustin scored a season-high 26 points for the Bobcats.