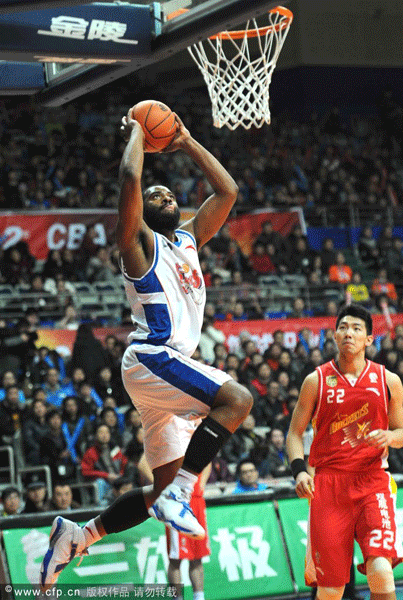 Marcus Landry of Shanghai Sharks slams dunk during a CBA game between Shanghai Sharks and Bayi Rockets on February 5, 2012.
The Shanghai Sharks remain in the hunt for a postseason place after a resounding 89-77 victory over the Bayi Rockets. The visitors struggled to contain Shanghai's aggression and firepower and were comprehensively dismantled as the Sharks looked to build up momentum for Wednesday's critical game against the Zhejiang Bulls.
The Sharks started at a blistering pace, thanks to the red hot shooting of Marcus Landry and Liu Ziqui, and quickly began to make inroads against a laboring Bayi side that was struggling with the youth and quickness of the hosts.
Leading 50-34 at halftime, a relentless Shanghai side came back after the break and continued to take the game to its guests, who constantly had to shoot from three-point range to try and catch up with the Sharks.
However, with Harris and Landry continuing to dominate the paint, the Rockets were falling further behind while Wang Zhizhi was being marshalled by Shanghai's own pair of giants, Zhang Zhaoxu and Tseng Wen-ting. Both the Shanghai team and the Yuanshen crowd were enjoying themselves as the game drifted towards its inevitable conclusion and Landry brought the crowd to its feet on more than one occasion with some towering dunks. There was still time for some controversy towards the end of the fourth quarter when Bayi's young center, Xu Zhonghao, needlessly poleaxed the considerably smaller Meng Lingyuan but it made little difference to the game which finished with Shanghai comfortably beating its historical rival to the delight of a vocal home crowd.
Landry scored 22 points while Harris (15 points, 10 rebounds) and Zhang (11 points, 15 rebounds) both picked up double-doubles in a result that coach Daniel Panaggio called "a very good game against a very good and well coached team".
The Sharks now move up to seventh place in the CBA table with four games left in the regular season.
Elsewhere, Liaoning Jaguars lost on the road to the Fujian Sturgeons 95-120. Reigning champions, the Guangdong Tigers, won their derby match against the Dongguan Leopards 111-97, and the Guangsha Lions' losing streak continued after a 100-107 defeat to the Shanxi Dragons in Taiyuan.