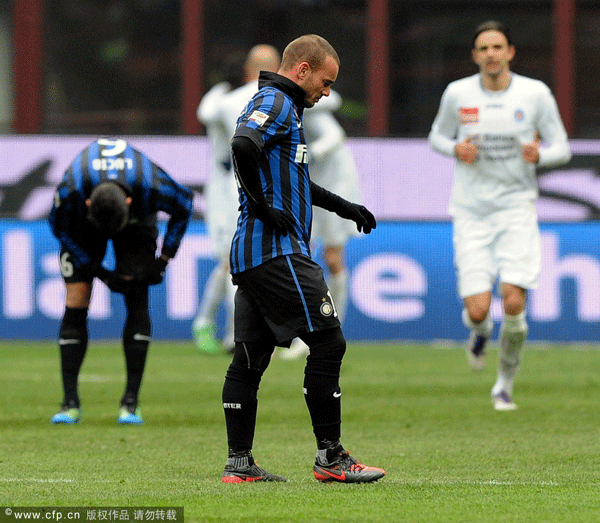 Wesley Sneijder of FC Inter Milan looks dejected during the Serie A match between FC Internazionale Milano and Novara Calcio at Stadio Giuseppe Meazza on February 12, 2012 in Milan, Italy.
Inter succumbed to a shocked 1-0 loss to ten-man Novara at home on Sunday.
Andrea Caracciolo scored the sole goal in the 56th minute on a counter-attack to help Novara complete the double over Inter this season. They also beat the Nerazzuri in September.
They held onto the win after being reduced to 10 men for the last 10 minutes of the game with Ivan Radovanovic being sent off.
Inter head coach Claudio Ranieri was left at a loss to figure out how to break Novara's solid defence.
"Every game is different. We knew that we were facing a team that would clam up and go on the counter, so we tried to go around them to find a space. However, we kept plenty of possession and then lacked another striker to finish the moves off," he said.
"We had about 20 efforts and hit the woodwork again, but things just aren't going our way at the moment. We have to stand by these lads and keep working," he said.
The Novara head coach Emiliano Mondonico believeed his side's victory over Inter showed "the wonderful simplicity of football."
"Football is not so complicated for me. We were facing a stronger side, had to defend, were lucky and therefore won. It happens sometimes," he said.
"The fans ask us to believe in safety and that is what we do. These lads played a very old-fashioned performance, with everyone tight and going on the counter-attack. We scored one, wasted another two or three chances and in the end we won," he added.
In the other two kick-offs of the day, Catania crushed Genoa 4-0 at home, while Atalanta drew 0-0 with Lecce.
Novara took the lead with ten minutes into the second half on an excellent break.
Caracciolo took the ball down well and used Rigoni as a decoy to his right before turning inside and curling his shot unstoppably into the far corner of Julio Cesar's goal.
Inter sent men forward with Diego Forlan introduced as a fourth attacking player, but Novara still found good chances on the break, such as in the 74th minute when Rigoni's teasing cross was pushed out by Julio Cesar just in front of Caracciolo.
Radovanovic was shown a second yellow card as referee Carmine Russo came under pressure from the Inter players demanding punishment for Novara's time-wasting.
But even with 10 men, Novara were able to hold on to only their third win of the season with Sneijder's shot against the crossbar in the 88th minute symptomatic of Inter's day.