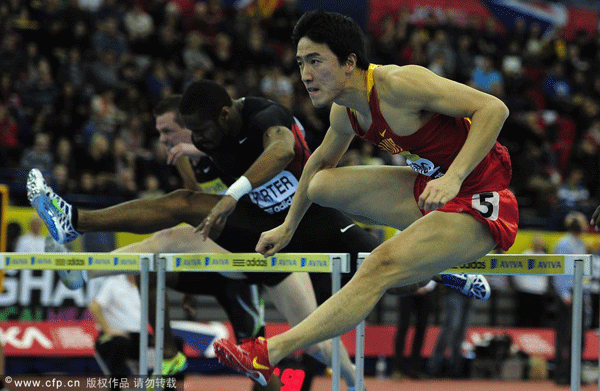 Liu Xiang of China jumps the last hurdle to win the 60 metres hurdle final during the Aviva Grand Pix at the NIA Arena on February 18, 2012 in Birmingham, England.
China's Liu Xiang is focusing on the London Olympic Games later this year after getting a confidence-boosting win over arch-foe Dayron Robles of Cuba at the Birmingham indoor tournament on Saturday.
Liu recorded a personal best 7.41 seconds to win the men's 60m hurdle.
Liu, the Athens Olympic champion, crossed the line first and improved his personal mark by 0.01 seconds.
"Now, I'm like in a dream. I never imagined that I can set a new Asian record by myself," said the 28-year-old winner. "I have done many things that was regarded as impossible. So for the following year, who knows what will happen?" said the former world No. 1, who didn't like to share his final objective but it was obvious that he wanted to take the Olympic title again after Beijing's shock withdrawal with injury.
The 28-year-old Chinese now has eight wins against Robles from their 13 meetings.
Liu's coach Sun Haipin said that if Liu could run into 7. 50 in the indoor event, then the former record holder should also be able to race into 13.00 seconds in the 110m event.
"I still feel though that over the first two hurdles I didn't do very well and that there is work to be done there," Liu said.
"I am excited about the rest of the year now," said Liu, who had changed his usual eight-step start before the first hurdle to seven since last year.