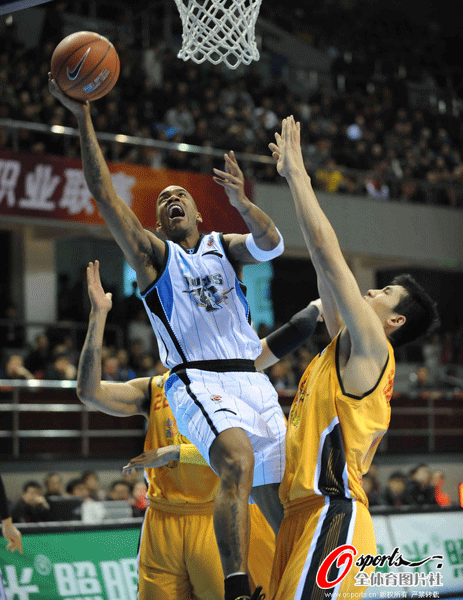 Stephon Marbury of Beijing Ducks goes up for a layup in a CBA playoff game between Beijing and Shanxi.
Stephon Marbury snatched a game-high 52 points as Beijing Ducks downed Shanxi Zhongyu 132-123 and leveled the total score on 1-1 at home on Wednesday in CBA semifinals.
Marbury grabbed 25 points in the first quarter as Beijing asserted great authority in offensive end by sanking 40 a single period and usurped the lead on 64-49 at the break. Beijing widened the margin to as much as 29 points in the thrid and made the game unreachable.
Randolph Morris got 27 points and 10 rebounds for Beijing, whose forward Zhai Xiaochuan added 20.
Shanxi's top scorer Marcus Williams made 45 points with Charles Gaines's big double-double 31 points and 16 rebounds.
"We all can see his (Marbury) winning desire here today. He is marvelous and his commitment and confidence spured us all," said Beijing head coach Min Lulei.
Guangdong pulled away after Xinjiang made it 42-to-all in the second quarter and never looked back to seal a home victory on 97-92, getting the match point on 2-0 in the best of five semifinals.
Zhu Fangyu buried 5 three-pointers, the same as that of the whole Xinjiang team with a game-high 25 points and Aaron Brooks scored 18.