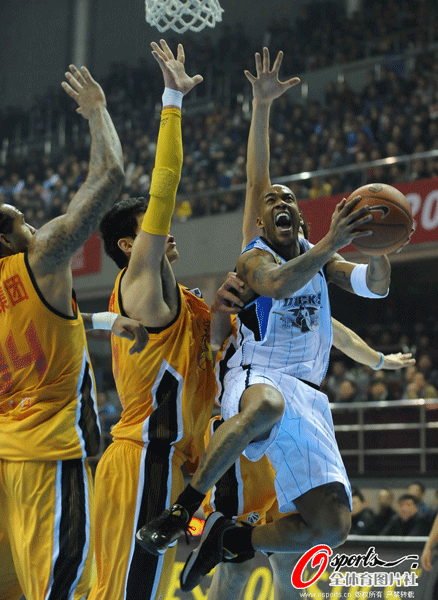 Stephon Marbury of Beijing Ducks goes up against defenders in a CBA playoff game between Beijing and Shanxi on Mar. 9, 2012.
Former NBA All-Star guard Stephon Marbury refreshed his CBA playoffs record by earning 53 points to lead Beijing Ducks past Shanxi Zhongyu 128-115 in the semifinal series of the Chinese Basketball Association (CBA) league on Friday.
After the 42-point-and-52-point show in the first two games of the series, Marbury renewed his scoring records in CBA playoffs by one point.
Beijing, leading Shanxi 2-1, had only one game to win before their first ever taste of CBA finals in the team's history. It is the closest chance for Beijing to book a spot in CBA finals. The team's best record was the third place in the 17-year history of the league.
"This victory is extremely important to us, especially when we are outrebounded by our rival," said Beijing head coach Min Lulei. "We will do our best in the next game."
Marbury faced physical defense in the first quarter. However, the 35-year-old rejuvenated in the second half to shoot down 37 more points.
Beijing power forward Randolph Morris got 31 points and seven rebounds. Zhai Xiaochuan and Zhu Yanxi bagged 11 points and 10 points respectively.
Marbury pulled his trigger from the very beginning of the game, knocking down two straight three pointers to award Beijing a 35-20 lead by the end of the first quarter. Shanxi sent both Charles Gaines and Marcus Williams on court in the second quarter, trimming the gap to six points before the half time whistle.
Shanxi didn't stop their scoring in the third quarter, surpassing Beijing 66-62 after delivering a 11-1 spurt. Marbury stood out again to get back the lead for Beijing, helping the host team to lead 90-88 after three quarters.
Beijing let go not chance in the final quarter, with Marbury making 13 straight points. After Zhu Yanxi's three pointer, Beijing extended the advantage to 19 points with less than three minutes left. Shanxi struggled to pull the score back, but Beijing controled the rhythm and clinched the victory by the end.
Shanxi's Marcus Williams got a team high 32 points. Gaines earned 34 points and 23 rebounds. Lu Xiaoming bagged 18 points.
Beijing would go to Shanxi on Sunday to fight for their chance for the final, while Shanxi would either win the Sunday's game or end their 2011-2012 CBA season.
Defending champion Guangdong Hongyuan got an easy win by beating Xinjiang Guanghui, their rival in the last three season's CBA finals, 120-102 to get themselves a CBA final berth with 3-0.
It would be the tenth straight time for Guangdong to play CBA finals. The Chinese basketball power house had earned the league champion in the last four seasons.
Guangdong's James Singleton took the team high 21 points. Shooter Zhu Fangyu bagged 20 points. Zhou Peng contributed 20 points too.
Xinjiang ended their big-spending season with a loss. Xinjiang shooter Xu Guochong brought home 23 points. Meng Duo and Ike Diogu wrapped up 20 points each.