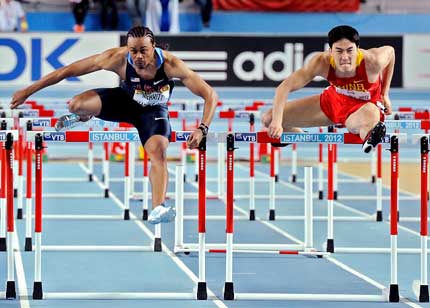 Aries Merritt (left) of the United States crosses the final hurdle ahead of China's Liu Xiang in the 60-meter hurdles final at the world indoor athletics championships in Istanbul, Turkey, yesterday.
Yelena Isinbayeva put a three-year gold medal drought behind her by winning the pole vault yesterday at the world indoor championships with just two jumps but Liu Xiang got beaten during the final session of the three-day event, coming up short in the 60 hurdles against Aries Merritt, who highlighted a banner championships for the United States.
In the absence of defending champion Dayron Robles of Cuba, China's Liu was supposed to find an easy gold at the end of the race, but was left chasing Merritt all the way.
Merritt won in 7.44 seconds, with Liu clocking 7.49. Pascal Martinot-Lagarde of France was third in 7.53
Russia's Isinbayeva set a world record of 5.01 meters last month and failed to improve that to 5.02 after ensuring gold. It was her fourth indoor world title overall but her first in four years. Over the same period, she also lost her world outdoor title.
"I was waiting for this victory like a mother is waiting to give birth to her baby," Isinbayeva said. "The last three years showed me how important it is for me to win."
She won the title at the Atakoy Arena with a height of 4.80, which she cleared with the consummate ease she has so often showed during her career.
The US also got gold from Bernard Lagat in the 3,000, Will Claye in the triple jump, Brittney Reese in the long jump and the men's 4x400 relay team.
Lagat won his third 3,000 title, pushing free with 100 meters to go to beat Kenyan rivals Augustine Choge and Edwin Soi.
Favorite Mo Farah was supposed to make it a straightforward duel with the American, but he failed to get into the medals and finished fourth. The Briton beat Lagat in a stirring 5,000 finish at the world outdoor championships in August.