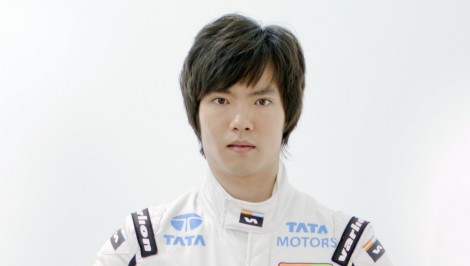 Ma Qinghua. [File photo]
Chinese driver Ma Qinghua has signed for HRT Formula One team's young driver development program, the team announced yesterday.
The 24-year-old Shanghai- based driver will carry out tests with cars from different categories besides trying out their simulator tests. If the results are satisfactory, Ma could be behind the wheels of HRT's F112 car for a Formula 1 Young Driver test.
HRT has scheduled a press conference with Ma next Thursday ahead of the Chinese Grand Prix in Shanghai. "I finally achieved my dream today," Ma posted on his microblog after the team made the announcement.
Ma had been competing in different categories of national and international motorsport since 2002.
His incorporation to HRT F1 Team's Driver Development Program takes place after some simulator tests and a testing session in Cheste (Valencia) at the wheel of a World Series car.
"I'm very honored to form a part of the driver development program at HRT Formula 1 Team since, with work and effort, it will allow me to become the first Chinese Formula 1 driver," Ma said in a statement. "It's a very special moment for me and it's hard to express how happy I am. I've dreamt of becoming a Formula 1 driver since I was very little.
"Driving an F1 car will be the most incredible experience and I'm going to work hard to earn it," he added. "Thanks to HRT for offering me the chance to show what I'm capable of. And thanks to my family and everyone who has always supported me. This is only the beginning."