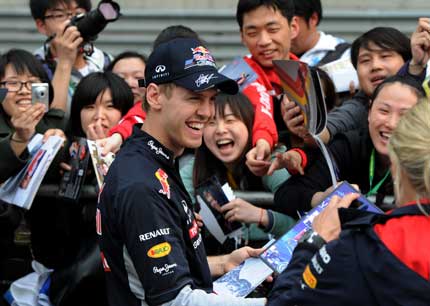 Red Bull's Formula One world champion Sebastian Vettel of Germany is mobbed by fans as he signs autographs in the pitlane of the Shanghai International Circuit yesterday.
Formula One boss Bernie Ecclestone said yesterday that the Bahrain Grand Prix will go ahead next week as scheduled - unless national authorities decide to cancel the race.
Pressure has been growing for the April 22 race to be canceled for the second straight year because of ongoing clashes between security forces and anti-government protesters. The crackdown has left at least 50 people dead.
Ecclestone, however, said ahead of the Chinese GP in Shanghai that there had been no change of plans. "The race is on the calendar. Unless it gets withdrawn by the national sporting authority in the country, we will be there," he said.
Ecclestone plans to meet with the F1 teams today for discussions, but stressed that wouldn't change the situation.
"I don't see any difference between here (China) and Bahrain," Ecclestone said. "It's the same. It's another race on the calendar."
Bahrain's Sunni leaders and race organizers remain committed to going ahead as a way of showing the divided Persian Gulf island nation is moving past the strife of the past year and coming together again.
Bahrain's circuit chairman said earlier this week that extremist groups are using "scare-mongering tactics" to make the unrest seem worse than it is to force the cancellation of the race.
Last year, Bahrain organizers canceled the race after an attempt to reschedule it by motor sport's world governing body, the Federation Internationale de l'Automobile, was criticized by rights groups, teams and fans.
Moral problems
Many drivers avoided talking about the situation yesterday. When six of them were asked at a news conference in Shanghai whether they had any moral problems with competing in Bahrain, all six sat completely still and didn't say a word.
World champion Sebastian Vettel of Red Bull also deflected questions about the race.
"No Bahrain questions. Ask the people in the paddock," the German said. "Maybe I don't watch enough TV."
Australian Mark Webber of Red Bull, however, noted the difficulty of the position the drivers have been put in.
"Ultimately, we are all human. We have morals, we have ways we see things," he said. "We like to think that people and situations are fair and everything is, as I suppose, correct as we would like it to be.
"As a grand prix driver, I'm contracted to the team, they're contracted to the FIA. They hold a 20-round world championship. We go to those venues and race. And that's where it is."
Ferrari's Fernando Alonso, who is coming off a victory at the Malaysian GP last month, said any decision is out of the drivers' hands.
"I think we need to trust the FIA in which the people that have all the information," the Spaniard said.
Briton Lewis Hamilton, who drives for McLaren, said he was eager to focus on getting his first win of the season in Shanghai.
"I don't think it's my place or anyone else's place to really comment," he replied when asked about his personal feelings about the prospect of going to Bahrain.
"We all just have to look at the FIA and wait for their decision."
Mercedes driver and seven-time F1 champion Michael Schumacher also preferred to talk about the Shanghai race.
"I've never had much luck in Shanghai, apart from my win in 2006; however that could change this year," the German suggested.