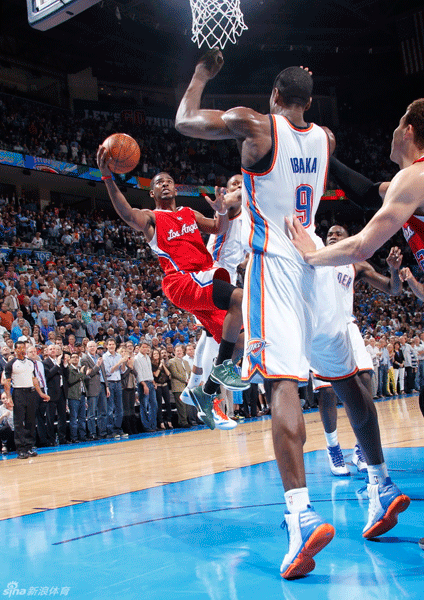 Chris Paul's layup with 8.8 seconds left gave Los Angeles a 100-98 win over the host Oklahoma City Thunder.
A Chris Paul layup with 8.8 seconds left gave Los Angeles a 100-98 win over the host Oklahoma City Thunder yesterday, keeping the Clippers in position for home-court advantage in the first round of the NBA playoffs.
Paul scored 31 points and got past Thunder defensive specialist Thabo Sefolosha for the critical basket, squeezing the ball onto the rim to put L.A. ahead.
The Thunder's Kevin Durant missed a 3-point attempt that could have won it, hitting the back rim on a shot from the left wing.
Durant led Oklahoma City with 22 points.
Blake Griffin added 16 points for the Clippers.
LAKERS 98, SPURS 84
In San Antonio, Andrew Bynum had 16 points and 30 rebounds - the most boards in an NBA game this season - as Los Angeles recorded a surprisingly comfortable win over San Antonio.
Metta World Peace (formerly Ron Artest) scored 26 points for the Lakers who made light of missing Kobe Bryant for a third straight game and handed the Western Conference's second-place team one of their most embarrassing losses this season.
Bynum's dominating night surpassed the previous NBA season-high of 25 rebounds, set twice by Orlando's Dwight Howard and Milwaukee's Ersan Ilyasova.
Danny Green led the Spurs with 22 points.
CELTICS 88, HAWKS 86, OT
In Boston, Paul Pierce overcame a miserable shooting game with a key jumper in overtime that gave Celtic victory over Atlanta.
Rajon Rondo finished with a triple-double with 20 assists, 10 points and 10 rebounds.
Jeff Teague led the Hawks with 21 points.
GRIZZLIES 104, SUNS 93
In Memphis, Rudy Gay scored a season-high 32 points as Memphis won its fourth straight with a victory over Phoenix.
Memphis outscored the Suns 17-6 after the game was tied with 6:27 left. Dante Cunningham had six of his 10 points during that run.
Marcin Gortat had 19 points for Phoenix on 9 of 12 from the floor.
JAZZ 103, ROCKETS 91
In Houston, Gordan Hayward scored a season-high 29 points as Utah boosted its fading playoff hopes with a win over Houston.
Paul Millsap added 21 points for the Jazz, who held the No. 10 spot in the Western Conference standings coming into the game.
The Jazz shot 51 percent (40 of 78) and led by as many as 18, taking advantage of Houston's 36 percent shooting from the field.
Goran Dragic scored 19 for the Rockets, who had a four-game winning streak ended.
KNICKS 111, BUCKS 107
In Milwaukee, J.R. Smith hit a 3-pointer for the lead with 1:04 left, and New York held on to beat Milwaukee in a game that could turn out to be critical to both teams' playoff hopes.
Carmelo Anthony had 32 points and 10 rebounds for the Knicks, who took a two-game lead over the Bucks for the No. 8 seed in the Eastern Conference. Smith had 14 points off the bench.
Monta Ellis had 35 points for Milwaukee.
NUGGETS 113, TIMBERWOLVES 107
In Denver, Ty Lawson scored 24 points, including four free throws in the final 17.6 seconds, to help Denver beat Minnesota.
Arron Afflalo added 21 points for the surging Nuggets, who remained in the thick of the Western Conference playoff race.
The Timberwolves lost All-Star forward Kevin Love to a concussion in the first quarter after taking an inadvertent elbow to the head.
He was going to be kept overnight at an area hospital for precautionary reasons.
PACERS 104, CAVALIERS 98, OT
In Cleveland, Danny Granger scored 23 points, five in overtime, to help Indiana edge Cleveland.
George Hill made a dagger 3-pointer in the extra session for the Pacers, who are clinging to the No. 3 spot in the Eastern Conference.
David West added 19 points for Indiana, 6-1 in its past seven.
Antawn Jamison scored 21 for the Cavs, a league-worst 0-5 in overtime games.
76ERS 93, RAPTORS 75
In Toronto, Philadelphia downed Toronto to add a key win in its chase of a playoff berth.
Thaddeus Young scored 17 points and Nikola Vucevic had 12 for the 76ers, who avenged a 21-point home loss to Toronto last Wednesday.
This time, the 76ers blew the game open in the fourth, outscoring Toronto 30-18 and coasting to victory thanks to an 11-0 run. The Raptors went scoreless for 4:16 late in the game.
TRAIL BLAZERS 118, WARRIORS 110
In Portland, Jamal Crawford scored a season-high 34 points to help Portland defeat Golden State.
Wesley Matthews had two baskets in the final minute for the Blazers, who had given up a 15-point third-quarter lead and were forced to scramble to hold off the visitors.
David Lee had 21 points and 14 rebounds for the Warriors, who were within four points late before Mathew knocked down a mid-range jumper and then a 3-pointer to seal it.
HORNETS 105, KINGS 96
In New Orleans, Jason Smith scored 22 points, hitting 10 of 12 shots, to lead New Orleans past Sacramento.
Marco Belinelli added 21 points for the Hornets, who shot 55.9 percent (38 of 68) and surged ahead for good with an 18-3 run in the third quarter.
Marcus Thornton had 25 points for the Kings, who have lost six straight.