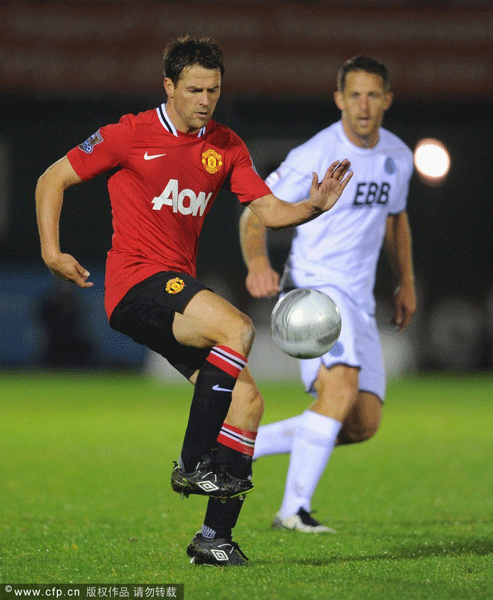 Michael Owen of Manchester United in action with Darren Jones of Aldershot during the Carling Cup fourth round match between Aldershot Town and Manchester United at the EBB Stadium, Recreation Ground on October 25, 2011 in Aldershot, England.
Shanghai Shenhua boss Zhu Jun has denied claims that he was targeting Manchester United's Michael Owen after newspaper reports said the 32-year-old striker may not get an extension at Old Trafford.
Zhu said on his microblog that Shenhua was not going to buy too many players in the summer. An English newspaper reported that Shenhua's player-coach Nicolas Anelka was keen that the former Liverpool and Real Madrid hitman join him and possibly Didier Drogba at the end of the English season.
Meanwhile, Guangzhou Evergrande is reportedly irked by the behavior of its star Argentine midfielder Dario Conca after the latter hit out at the coach for substituting him during an AFC Champions League game against Jeonbuk Hyundai on Tuesday. The 28-year-old made his frustrations known by kicking a water bottle while heading back to the bench. He later wrote on his blog that he did not understand why the Korean coach Lee Jang-soo always thought he was too tired and substituted him.