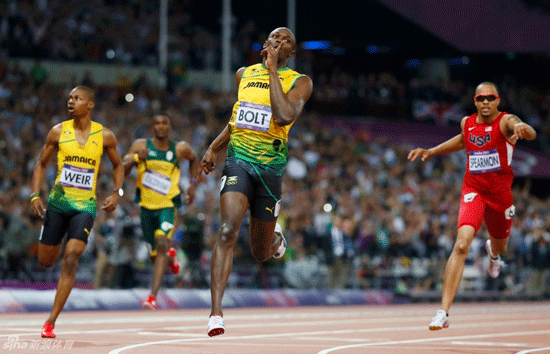 Bolt puts his finger to his lips after crossing the finishing line.
Usain Bolt has done it again! The Jamaican sprint maestro won the gold medal in the 200 meters with a totally dominant display of sprinting.
"There is no doubt who is going to come out on top, this is my favorite event and I'm looking forward to it. People always doubt the champion, but I don't have any doubts," Bolt had said after winning his 200 meter semi-final on Wednesday night.
24 hours later and that self-confidence was proved to be well-founded after he wrote his name in the history books as the first man ever to win 100 and 200 meter titles in successive Olympic Games.
And he did it in commanding style
Bolt was in front from the off, getting the sort of start he had taken in the semi's and running a killer bend to put him a meter and a half over his only possible rival on the night, Yohan Blake.
For an instant on the straight it looked as if Blake would close on the maestro, but that was a chimera as Bolt found another gear and powered over the line with Blake second and Warren Weir giving Jamaica 1-2-3.
As if to rub in his dominance Bolt celebrated with a series of press-ups for the waiting cameraman who had gathered in hordes behind the finishing line.
The race was the second showdown of the Games between Bolt and Blake after Bolt had won gold in the 100 meters with an Olympic record of 9.63 seconds, the second fastest time in history.
But nobody had forgotten that Blake had beaten Bolt in the 200 meters in the Jamaican trials and looking to repeat the triumph on the track in London and he had run the fastest 200 of 2012 and 2011 to help back up his claims.
"I've been working very hard on the 200 meters, I have to execute things well to have a chance of winning," Blake had said on Wednesday after running the fastest qualifying time of 20.05.
He went ever better in the final, finishing with a season's best of 19.44, but Bolt once again showed he can turn on the speed when it is needed.
Nobody should think he just flicks a switch, Bolt works hard for his times and his time of 19.32 was the product of hard work and sweat. It was also the fastest of the year and even more importantly, the fastest of the race if it wasn't a world record, that is probably because Bolt allowed himself the luxury of looking across towards Blake in the closing meters.
As always happens with Bolt, as he walked onto the track the stands were filled with a multitude of flashes as the majority of the 80,000 spectators took photos of the moment. As he made his lap of honor afterwards the stands were ablaze with flashing lights, they had to be, it was one of those times when it is a privilege to be able to say and prove 'I was there.'