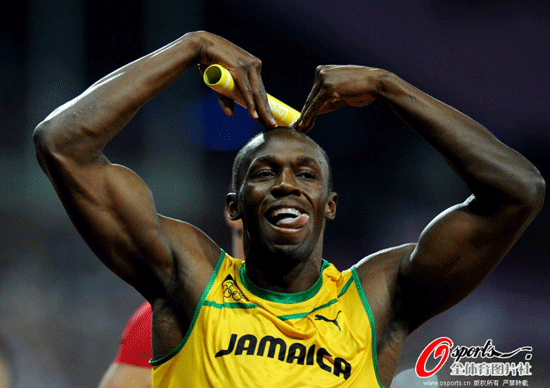 Usain Bolt celebrates winning the Men's 4x100m Relay and his third gold medal.
The Jamaican 4x100 meters relay team ended the track events in the Olympic Stadium in magnificent fashion by claiming the gold medal and smashing the World record with a time of 36.84.
Usain Bolt ran a flying anchor leg to overhaul a small deficit against the USA's Ryan Bailey to ensure his country maintains its position as the Kings of Sprinting and also to ensure his third gold medal of these Games.
The win means Bolt has now claimed an incredible sprint treble of 100, 200 and 4X100 relax in London and Beijing. But there was very nearly an unset as there was a hold on the result and everyone on the stadium was kept waiting for two heart-stopping minutes before the win was confirmed, although it was later explained that the infraction was in fact committed by a Canadian athlete.
The USA took silver in a time of 37.04, which also smashed the former record, while Trinidad and Tobago took bronze.
The Jamaican's fielded a team with Yohan Blake running the final bend with Bolt on anchor, but it the USA also fielded a fearsome line-up, which included Justin Gatlin, bronze medal winner earlier in the week, Tyson Gay and Ryan Bailey.
The race had many concurrent storylines, although no home interest after Team GB continued what is fast turning into a tradition in the event and were disqualified for an illegal baton handover in Friday's semi-finals.
On the one hand it would allow Bolt, the face of these Olympics as he was in Beijing four years ago, to cross the line first in the last race to be held in the stadium to claim his third gold medal of the Games. A win for Jamaica would also give Blake a much-deserved gold after finishing behind Bolt in the 100 and 200 meters.
Meanwhile for US runner Tyson Gay, the race offered him his last ever chance of winning an Olympic medal of any color. The second fastest man in the world, who celebrated his 30th birthday on August 9, had run 9.80 in the 100 meter's last Sunday and finished fourth, while injury had stopped him running at his best in Beijing.
Gay had said his birthday wish was: "for a 4 X 100 medal," explaining, "that would be all I need. When we run, we run for our families, our friends and our countries, but you run for a medal and you want to win it."
And on top of that was the sprint rivalry between the two countries with Jamaica looking to prove they are still top dogs against their giant rivals, a rivalry given greater spice by the victory and new world record set by the US women as they won gold in their race on Friday with Jamaica taking silver.
With all of those ingredients the race was a fitting curtain closure for the Olympic Stadium and it didn't disappoint.
The US got a flying start ,but Nester Carter and Michael Frater keep Jamaica in contention until the end of the back straight. Blake got Bolt into touching distance and Bolt brought it home and if the celebrations were delayed for a couple of minutes, they were no less effusive for that.