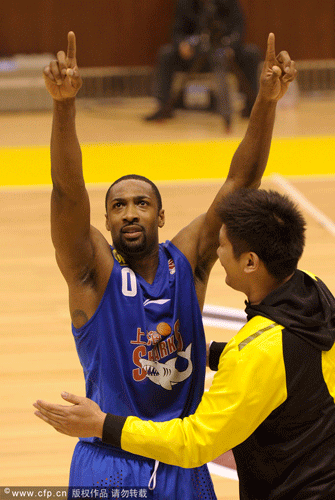 Gilbert Arenas celebrates after making the clutch shot.
The Shanghai Sharks edged out the Jiangsu Dragons 95-94 in the Chinese Basketball Association yesterday thanks to Gilbert Arenas' last-gasp basket in Changzhou, Jiangsu Province.
"Agent Zero" Arenas, who missed the team's last game due to knee effusion, carried the Sharks to victory in the absence of skipper Liu Wei who was missing because of fever. Arenas had 25 points and 15 rebounds. DJ White, another American player with the Sharks, added 24 points.
Jiangsu's Mike Harris notched a game-high 33 points, helping the Dragons narrow the gap in the last quarter and leaving the visiting Sharks in a cold sweat.
"Liu's absent undermined our team," said Sharks head coach Wang Qun. "Arenas came back and the whole team's efforts helped us win the game."
The Sharks, who had a good lead, were pushed to the limit, falling behind 93-94 following a couple of Jiangsu three-pointers, with only 14 seconds remaining.
As expected the ball was handed to Arenas after Shanghai's time-out. The former Washington Wizards star knocked down a two-pointer, with four seconds remaining, in which Jiangsu failed to make the final shot count.
"We were not tough enough on defense," conceded Wang.
Shanghai rose slightly in the league table, and now ranks 15th in the 17-team league. Jiangsu is 13th after yesterday's game.
Elsewhere Qingdao Eagles survived two breathtaking overtime periods to beat the visiting Tianjin Lions 140-138 and grab a fifth straight victory. Tracy McGrady fouled out one minute into the first overtime. He scored 23 points and had seven assists.
It was the second time in the last two games that Qingdao went into overtime. The Eagles beat the Beijing Ducks 104-101 in overtime last Friday. The Eagles, however, are still bottom of the league.
Defending champions Ducks, however, ended their streak of three losses by defeating Xinjiang Flying Tigers 106-97 yesterday.