Similar to Christmas in the West, Chinese Lunar New Year, or the Spring Festival, is the most important festival of the year for Chinese people. It marks the first day of the lunar calendar and usually falls somewhere between late January and early February of the Gregorian calendar.More about the Spring Festival>>
In China, the Spring Festival is when all family members get together. No matter how far people are from their homes they will try their best to heads back to their hometown to celebrate the festival with their family.
There are many customs that accompany and adds great joy to the traditional festival. China.org.cn selects the top 10 customs that are widely followed across China during the celebration of the Spring Festival.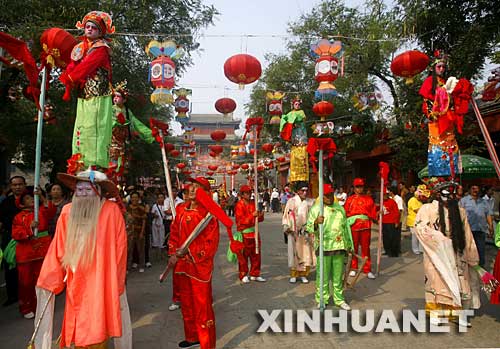 [Xinhua]
The tradition of a "temple fair" (Miao Hui in Chinese) began as groups of vendors who did business near Buddhist and Taoist temples when many pilgrims came to pay tribute during traditional festivals. The practice grew, gradually turning into a regular event. Now temple fairs are an important and joyful destination for Chinese people during festivals, most especially the Spring Festival, or Chinese New Year.
During the Spring Festival, the temple fair is a traditional cultural event that features all kinds of Chinese folk art. The temple fair is usually held on an open ground in or near a temple. Although different places hold their temple fairs, the contents are similar. Farmers and merchants sell their farm produce, local specialties, and antiques, jade articles, flowers, birds and fish; craftsmen set up their stalls to show and sell their handicrafts and specialty snacks; folk artists establish a stage for singing, dance, story-telling, comic dialogues, etc.
Most temple fairs feature dragon and lion dances, waist drum dancing, lotus blossom fairy dances, ground and clam dancing, as well as other folk performances, and some even stage traditional wedding ceremonies.
Ordinary people come to the temple fair to buy and sell goods, watch the performances, and sample snacks, giving the temple fair a bustling atmosphere.
For foreigners, a temple fair is definitely a cultural experience, because it airs Chinese cultures from a very detailed perspective. While enjoying the samplings of Chinese delicacies, you can appreciate craftsmanship and artworks displayed by local artisans.
• Beijing temple fair guide 2011