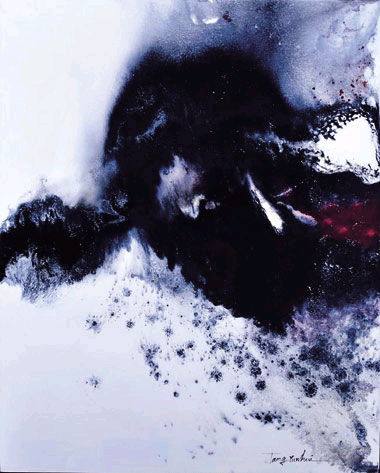 Making a splash: Wild brushstrokes are a feature of Tang Yunhui's work.
Different generations feature at an opening exhibition celebrating the J Gallery's move to a new venue, Wang Jie reports. One of the earliest private galleries in Shanghai, J Gallery moved to a new bigger venue inside the creative center on Tianlin Road with a grand opening exhibition titled "50-80."
Judging from its title, the intention of the organizer is clear.
Song Yunqiang, the owner of the gallery, tries to render an academic link between the two generations of artists born in the 1950s and 1980s.
Shen Xiao'an, Ann Niu, Chen Weide, Xu Yimei, Wang Wendong and Tang Yunhui, although each has a different background, have one thing in common - their addiction to art.
"The six artists I chose may be categorized as 'art lunatics'," says Zhu Guorong, curator of the exhibition. "Despite the outside hustle and bustle, the true meaning in their life always lies in art, and nothing else."
In fact, the artists at the exhibition can be divided into two groups: those who focus more on themselves and those who focus on the life of others in their art.
The six artists are not so well known, with the exception of Ann Niu and Tang Yunhui.
Having lived abroad for many years, Niu approaches the essence of many cultures and expresses it via her particular feminine angle.
The wild brushstrokes and striking colors reveal the artist's inborn passion, desire and sensitivity toward her art works.
Obviously, she cares more about the feelings deep in her heart.
Chen Weide, on the other hand, depicts the life of ordinary people with Western realistic technique.
He tries to render a kaleidoscope of the various layers of day and night from the angle of an observer.
Compared to them, Wang Wendong who was born in the 1980s, is more sarcastic.
He creates a series of sculptures of teenagers who are perplexed or helpless in their surroundings in a pop art language.
Date: through August 31, 10am-6pm
Address: Bldg 9, 140 Tianlin Rd
Tel: 3367-6516