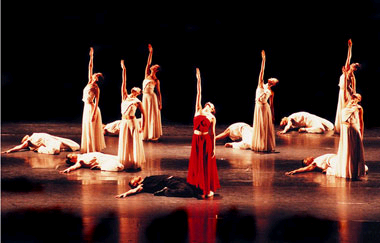 Shanghai Opera House's take on "Carmina Burana" is regarded as the perfect combination of oratorio, dance, symphony orchestra and chorus. 
Carl Orff's masterpiece, "Carmina Burana," will open the new season of Shanghai Oriental Art Center with a performance on September 20 featuring the symphony orchestra, chorus and dance drama theater from Shanghai Opera House.
"Carmina Burana" is a scenic cantata composed by German musician Orff (1895-1982) between 1935 and 1936.
It is based on 24 of the poems found in the medieval collection "Carmina Burana." The cantata is part of "Trionfi," the musical triptych that also includes the cantata "Catulli Carmina" and "Trionfo de Afodite."
Its primal tunes and pounding rhythms, once encountered, are impossible to forget. The opening chorus, "O Fortuna," has been used incessantly in film and increasingly on the dance floor.
The cantata was premiered in Frankfurt by the Frankfurt Opera in 1927.
Shortly after that great success, Orff wrote the following letter to his publisher Schott Music: "Everything I have written to date, and which you have, unfortunately, printed, can be destroyed. With Carmina Burana, my collected works begin."
It's considered as one of the most commercially successful classical compositions of the 20th century.
Chinese conductor Zhang Guoyong will conduct the performance presented by 180 performers from Shanghai Opera House. The leading dancers will include Chen Han and Yang Jingjing. Well-known singer Yang Xiaoyong, talented young singers Zheng Yao and Xiong Yufei will lead the chorus of around 100 people.
The full-length oratorio and dance production "Carmina Burana" was choreographed in 2003 by Ying E'ding, Chinese renowned dancer and art educater.
It's regarded as the perfect combination of oratorio, dance, symphony orchestra and chorus.
"It involves Western art style and Eastern romance in the production, and the music is full of artistic power," says Lin Hongming, general manger of the art center, who considers "Carmina Burana" to be the best possible choice for the opening performance of the center's new season.
Lin says that the production features the diversification and high qualities of art and is representative of the level of the performances at the art center.
"The audience will be lucky to enjoy this excellent performance," says Lin.
The premiere of the opera house production was at the German Ludwigshurg Art Festival in 2003, and the tour continued at Macau Art Festival and Shanghai Spring International Music Festival in 2004.
It has been five years since its last performance.
Date: September 20, 7:15pm
Venue: Shanghai Oriental Art Center, 425 Dingxiang Rd, Pudong
Tickets: 80-500 yuan
Tel: 6217-2426, 6217-3055