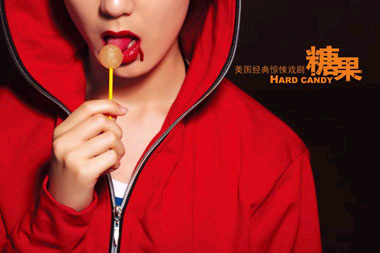 Hard Candy's Little Red Riding Hood ... a stage adaptation of the movie is currently playing in Shanghai.
A controversial film dealing with pedophilia is the inspirationbehind a stage play of the same name, producer Xu Weibin tells Michelle Zhang.
Hard Candy" is a story about how Little Red Riding Hood eats the wolf. Adapted from the 2006 thriller film starring Ellen Page, the stage play which premiered on Wednesday targets "women who want to take revenge on their unfaithful husband/boyfriend," according to producer Xu Weibin.
"It is a play created by three men for women, in which they will learn about all kinds of tricks that men play," he says. "The writer, the director and I have integrated our own stories and friends' stories into the play to make it more linked to real life.
"It is a play that might scare a male audience away," he adds, laughing.
The original film, directed by David Slade, is a psychological thriller about how a seemingly naive 14-year-old girl, Hayley, meets Jeff, a 32-year-old photographer and pedophile, on the Internet and persuades him to kill himself. Released in 2006, the controversial film received mostly positive reviews.
Xu who watched the movie for the first time about six months ago was immediately engrossed by it. "I checked about the film and found out that, although it is a small-budget independent movie, there were quite a few people discussing it on the Internet," he says.
"The story itself, which involves pedophilia and violence, is a very open topic that everyone holds his or her own opinion on which is perfect for a stage play," he says.
However, because of the sensitive content, the script had to be re-written several times before it could be staged. The final version tells how photographer Jeff cheats on his wife again and again, hurts a girl deeply and finally is revenged by her best friend, Hayley, who pretends to be a food deliverer on a stormy night.
Instead of asking Jeff to kill himself, Hayley insists the unfaithful man call up his boss to confess about his affair with the boss' wife. Jeff's wife, a pianist, is kidnapped and put in the same room. If Jeff is not going to do what Hayley requires, she will break his wife's fingers one by one.
"The story told in the movie is too far away from most people's real life experiences, however our adapted version is more 'mainstream,' which also relates to a hot topic in today's China - the unfaithful marriage," Xu says.
Meanwhile, Shanghai Modern People's Theater is to stage "Cards On The Table," a popular work by Agatha Christie (1890-1976).
The local theater is famous for its successful adaptations of the works of Christie, England's "Queen of Crime Fiction," including sold-out shows such as "The Mousetrap," "And Then There Were None" and "Appointment with Death."
The story begins as three men and a woman find themselves gradually regaining consciousness in a wet and dark basement. All of them have temporarily lost their memory and they are desperate to find out who is who, where they are, and why they are there ...
Both plays are in Chinese without subtitles.
"Hard Candy"
Date: August 19-September 6, 7:30pm
Venue: Shanghai Drama Arts Theater, 288 Anfu Rd
Tickets: 120-150 yuan
Tel: 6473-0123
"Cards on the Table"
Date: August 19-September 6, 7:30pm
Venue: Studio Theater,Shanghai Grand Theater, 300 People's Ave
Tickets: 120-150 yuan
Tel: 6217-2426