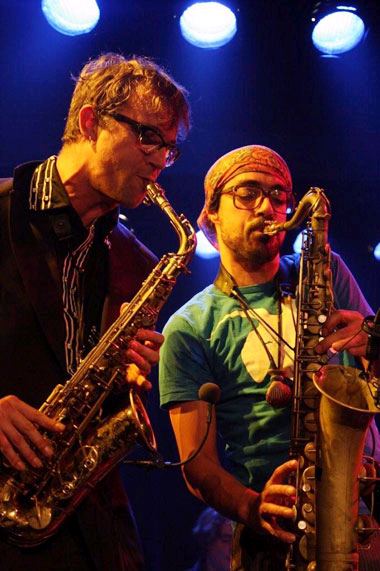 Bernie's Lounge from the Netherlands 
The sixth Jazz Shanghai Music Festival "Love Music, Love Life 2009" will be held from October 16 to 18. Thirty-eight music groups from around the world will perform in the festival, featuring jazz, rock & roll and electronic music.
The opening show will be given by the Grammy-award winner, American singer and songwriter Dee Dee Bridgewater, at Yunfeng Theater on October 16.
Over the next two days, the music festival will become a carnival at Century Park in Pudong where audiences will be able to enjoy performances on three stages.
Jazz groups from 13 countries and regions will be there, among them acid jazz group US3, 2008 Sony Music Award winner Freshly Ground, Netherland funk band Bernie's Lounge, Danish singer Sinne Eeg, Isradixie Band from Israel, Global Music Foundation from the United Kingdom, horn soloist Verneri Pohjola from Finland, Canadian saxophonist Yannick Rieu and Spanish flamenco band Abraham Carmona.
On the electronic music stage, the performers will include Zhang Youdai, Ben Huang, the Melkman, Dave K, Bananas Soundsystem, Void, STD, the Antidote, the Dynamic, Uprooted Sunshine Soundsystem, DJ Elnomo and Mr Tsang.
Chinese local pop musicians such as Cui Jian, Zheng Jun, Zhang Chu, Zhang Xuan and Wang Xiaokun will take part in the festival on the rock stage.
Opening show by Dee Dee Bridgewater
Date: October 16, 7:30pm
Venue: Yunfeng Theater, 1700 Beijing Rd W.
Ticket: 100-1,500 yuan
Outdoor performances
Date: October 17-18, 12-10pm
Address: Century Park, 1001 Jinxiu Rd, Pudong
Ticket: 150 yuan for single day; 200 yuan for two days
Tel: 6431-7113