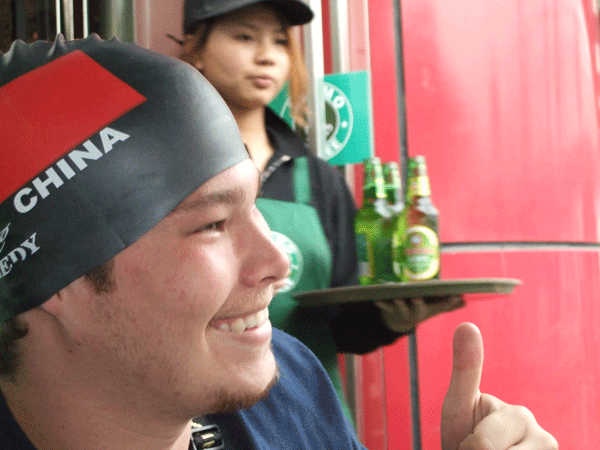 Looking for a swimcap, eurika![China.org.cn]

◇ Why are Beijing's markets number 10 on the list?
Beijing's markets are an easy way for travelers to shop in Beijing and get everything they need in one place. Because of the massive draw from consumers, many vendors selling the same product are adjacent to one another usually keeping prices low, but sometimes inviting cartels between vendors of specialty goods.
Many of Beijing's markets specialize and cater to specific items. Panjayuan is the best market to go to for art while Hong Qiao is famous for its pearls. The right market simply depends on what consumers are looking for.
◇ Which Market is for you?
My personal favorite market in Beijing is Panjayuan, the best market for art scrolls and other nick-knacks. This market is an open air market in the east side of the city and is only open on the weekends. It is advisable to get to the market early to find good deals and escape the heat of the day. Although most of the antiques here are fakes, some treasure hunters make end up getting lucky if they actually know what they are looking for. Ancient coins, beads, scrolls, and crackle vases are the items of choice here; it may end up feeling more like a treasurous flea market than anything else.
Silk Street market is located within the subway station Yong'anli. This market specializes in custom suits, fake apparel, shoes, and handbags. This market has especially outgoing vendors and they have been known to actually grab consumer's arms and drag them into stalls instead of just shouting to bring in customers. This market is especially convenient, but outside of apparel, handbags and shoes, there isn't much else to be found.
For pearls, visitors should go to the Hong Qiao pearl market located across from the Temple of Heaven. This market has more types of items beyond pearls, like shoes, bags, and Chinese souvenirs. Whether a customer is looking for Chinese hand balls, chopsticks, luggage, or a fake Prada bag, the Hong Qiao market has it all.
◇ Tips and Tricks:
Chinese vendors originally hit customers with outlandish prices and then the invitation to begin bargaining is open. Under no circumstances should you believe the theatrical performance that each vendor will put on, this includes: saying the price you want is below cost, telling you how bad business is, or that things in the stall are "handa made-a", because, they aren't. Just to forewarn you, it's not real silk, it isn't handmade, and it isn't "best quality"; don't get your heart broken.
Furthermore, customers have to be willing to walk away during bargaining. If the price you want is indeed above cost (and you haven't insulted the vendors) they will call you back to do the deal. But the great thing about markets and heavily produced merchandise: that red Chairman Mao tee-shirt or blue and pink chopstick set you want is just around the corner. There are always other vendors that are ready and willing to sell you the exact item for less.
(China.org.cn August 24, 2009)