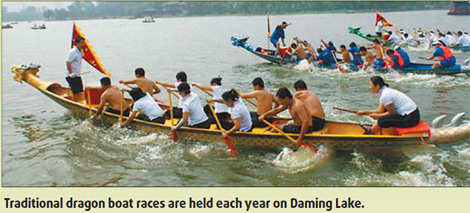 Shandong plans to further develop cultural enterprises into pillar industries to aid the province in becoming truly prosperous, according to its Cultural Industry Development Plan for 2007 to 2015.
The blueprint calls for establishment of centers for cultural industries including broadcasting, publishing, film and drama production, performing arts, cartoons and animation, tourism, sports, advertising and even antiques and handicrafts.
The province is home to Taishan Mountain, the Confucius family cemetery - the world's oldest and largest family burial site - Confucius Temple and the Confucius Mansion, all listed as of UNESCO World Cultural Heritage sites.
Also famous for its ancient Qi and Lu cultures, the province has six national historic cultural cities, 23 folk art villages, 27 national and 157 provincial intangible cultural heritage sites, 4,107 key cultural relics under State protection and more than 13,000 ancient buildings and sites.
The province plans to develop cultural industry regions centered around the cities of Qingdao, Jining and Linyi. Parks will be established that highlight the Qi and Lu cultures as well as Shandong's history of Red Culture and the Communist Party of China.
The provincial plan envisions a series of works featuring the Qi and Lu cultures, as well as Confucius, with intellectual property rights and branding.
Talented practitioners of folk culture will be selected to invigorate development of regional culture.
Professional industry management and technological innovation are also part of the strategy.