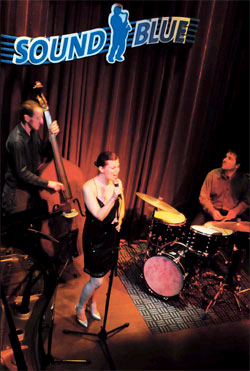 Performances at Sound Blue vary during the week across a range of jazz styles. 
Dedicated to nurturing local jazz talent, the Sound Blue jazz bar is the dream of Shanghai music stalwart Simon Wu.
While studying jazz in Japan, the talented saxophonist dreamed of opening up his own jazz bar in his home city of Shanghai.
Two months ago that dream was realized when the first notes were played at Sound Blue, a stylish, intimate bar on Sinan Road, near Taikang Road.
The 100-seat club hosts touring musicians and singers from the Japanese jazz scene and also local players.
"My dream is to make a jazz club where musicians can meet and make great jazz, where it is happy and like a big family," Wu says.
Wu is one of the generation of local jazz musicians who emerged in the early 1990s in the wake of the opening up of China.
"When I played the sax 20 years ago, there were not many jazz players in Shanghai," he says.
Along with pianist Mark Bai, guitarist Terry Fu, keyboardist Zhu Mang, double bassist Wang Xu and drummer John Liu, they formed the well-know local jazz act Walking 5.
It was the first band to be booked at one of the international hotels, first playing the Shanghai JC Mandarin before moving to other five-star hotels around town.
Along with vocalists Tony Tian and Coco Zhao, they were part of a nucleus of local jazz players who helped propel the standard of jazz musicianship in the city.
"There were not so many musicians but most of them were local people, and students from the Shanghai Conservatory of Music also started playing jazz," he says. "So we were playing places like Hilton, JC Mandarin, the Cotton Club and Eric Cafe and we had a lot of fun because it was the beginning of jazz.
"The musicians maybe didn't have a lot of experience, but they were very enthusiastic," Wu adds.
In 1998, Wu decided to further his jazz studies in Japan where he studied at the renowned Tokyo Jazz School under accomplished jazz saxophonist Toki Futikomi.
He says Japan has one of the world's most vibrant and knowledgeable jazz scenes, with small clubs dotted across Tokyo and other major cities.
"Tokyo is a real live jazz city and I went to all the clubs and really loved all the different types of jazz bars there," he says. "The jazz clubs have a real different type of music. At my club I really want local musicians because I am a Shanghainese. I want local musicians to build a reputation in China and help popularize jazz."
With deep roots in the Tokyo jazz scene, Wu also wants to showcase outstanding Japanese jazz acts and already has had a range of bands and singers tour since Sound Blue opened in June.
The bar is also similar to many Japanese jazz bars, going for a small intimate space where the audience is just meters from the musicians.
"Japanese people love listening to jazz like this, close to the stage and the musicians, so there is good communication," he says.
The house band plays on Friday and Saturday nights and is made up of a range of top-notch Shanghai-based musicians, including Michael Brownell on bass, New Yorker Alex Ritz on drums, Mark Bai on piano and Theo Croker on trumpet.
Mondays see a jam session and Tuesdays are trio night. Wednesdays and Thursdays are vocal nights with such talents as Filipina Jennifer Palor, Austrian Heidi Krenn and Japanese singer Yuko Kishi, as well as local singers Erica Li, Carol Zhang and Lisa Sun.
The weekend is rounded off with a more mellow solo piano and sax performance.
"Every club has different music and my idea for the club is that it will not be a big club but will have a different type of feeling," he says. "We want a clean sound. On stage the speakers, the amplifiers, the position of instruments are all very important because we want to provide a good, high-quality sound."
The club has a happy hour with half-price drinks from 6:30pm until 8:30pm and the music usually kicks off around 9:30pm. There is no table charge and the performances last until approximately 1:15am.
Address: 107 Sinan Rd

Tel: 6473-2688

For more information, visit www.soundblue.com.cn.
(Shanghai Daily September 3, 2009)