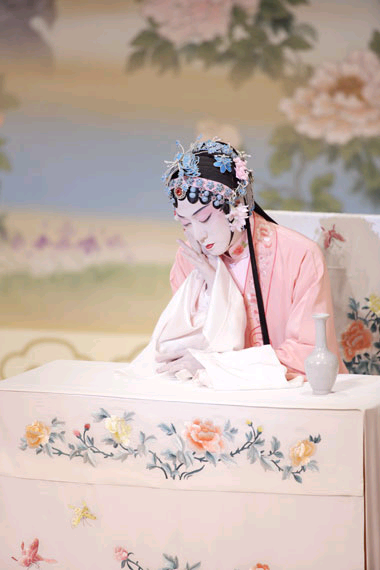 Tamasaburo Bando will play Du Liniang in the China-Japanese version of the Kunqu classic "The Peony Pavilion."
The Kunqu Opera classic, "The Peony Pavilion," has been staged in many versions over the years. But the China-Japan edition featuring kabuki master Tamasaburo Bando and veterans from the Suzhou Kunqu Opera House will be a very different take on the cultural icon.
The experimental production will be staged on November 17-22 at Shanghai Lyceum Theater during the 11th Shanghai International Arts Festival.
The China-Japan coproduction premiered in Kyoto last year and more than 30 shows have been staged in Beijing and Suzhou, Jiangsu Province.
The 59-year-old Bando plays the female lead Du Liniang, daughter of a high official in ancient China. In a complicated tale of death, resurrection and reunion, Du returns from the dead to unite with her true love, a poor young scholar Liu Mengmei, played by Chinese actor Yu Jiulin.
All roles in highly stylized kabuki are performed only by males, as in the original Kunqu Opera, the progenitor of many traditional Chinese operas.
Originated 600 years ago in Kunshan, Jiangsu Province, Kunqu Opera is considered by UNESCO as a masterpiece of human intangible heritage.
Bando, who reveres the late Peking Opera master Mei Lanfang, is passionate about traditional Chinese theater. He incorporated elements of Peking Opera into his kabuki performance of the classic "Legend of Lady Yang."
Three years ago Bando, supported by Chinese artists, decided to stage "The Peony Pavilion."
"It's a big challenge to master the lyrics and dialogue," Bando says. "They are rich in connotations and reflect delicate emotional shifts."
The play by Ming Dynasty (1368-1644) writer Tang Xianzu (1550-1616) in his late years also reflects the playwright's philosophy of life.
"It is also difficult to express Tang's attitudes toward life and love from my portrayal of Du, an innocent young lady," he adds.
After six performances in Shanghai, the show is expected to move to Tokyo next year.
Date: November 17-21, 7:15pm; November 22, 2pm
Venue: Lyceum Theater, 57 Maoming Rd S.
Tickets: 180-1,280 yuan
Tel: 962-388, 6256-5544