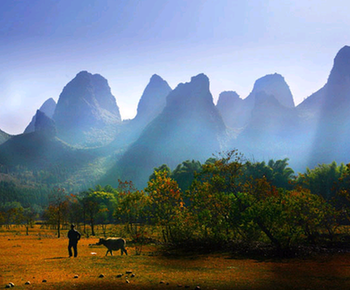 Tour Duration: 11 day(s)
Group Size: 1 - 8 people
Specialty Categories: Bicycle Touring Cultural Journey
Season: January - December
Airfare Included: No
This bicycle tour begins in exciting city of Guangzhou, the place where China's current love affair with capitalism started. Staying on quiet Shamian Island on the Pearl River we will visit the exotic Qingpping Market, and take Pearl River Boat Tour at night, when Guangzhou looks its very best.
One the second day, we will cycle to Sanshui and visit the Sanshui Forest Park and mosque along the way. On the third day, we head north to Qingyuan and visit the Lubao Ancestral Temple and Wen Pagoda. The next day the group will cycle to Jiulong, also known as Little Guilin, because of the fascinating karst hills in the area. Here we will view the Tai He Cave and Yanzi Crag. On the fifth day we head to Yangshan in the Yingxi Mountains home to the Yao minority group. We will visit the Yangyan Cave, Hanyu Angling Terrace and the Yao Minority Village. The next day we head to Liannan through the green hills in the Huangchuan Three Gorges and the Yao Autonomous Region.
On day seven, we will take transport part way and enter Guangxi province to Hezhou. Thereafter for the remainder of the trip the landscape will be dotted with the karst limestone hills that make for an unparalleled visual treat. On the ninth day the group will arrive in Yangshuo, a curious little tourist town with many western restaurants and souvenir shops. Here we will spend two days to relax in this comfortable place visiting Moon Hill, the Black Buddha Caves, and view cormorant night fishing. On the last day we will cycle to Guilin where we conclude the tour with transport to the airport.
Your Itinerary:
Day 1: Guangzhou (Canton). Meet group members, brief city tour: Shamian Island, Qingpping Market, Pearl River Boat tour at night. Includes: (B), (L), (D).
Day 2: Sanshui. Temple, Mosque, Sanshui Forest Park. Includes: (B), (L), (D).
Day 3: Qingyuan. Lubao Ancestral Temple, Wen Pagoda. Includes: (B), (L), (D).
Day 4: Jiulong. Tai He Cave, Yanzi Crag, Rongqiang Miniature Guilin. Includes: (B), (L), (D).
Day 5: Yangshan. Yingxi Mountains, Yangyan Cave, Hanyu Angling Terrace, Yao Minority Village. Includes: (B), (L), (D).
Day 6: Liannan. Huangchuan Three Gorges, Yao Autonomous Region. Includes: (B), (L), (D).
Day 7: Hezhou. Cycle 79 km, then take transport for 55 km over a rough section of road. Includes: (B), (L), (D).
Day 8: Zhongshan-Karst Hill Scenery. Includes: (B), (L), (D).
Day 9: Yangzhou-Confucian Temple. Includes: (B), (L), (D).
Day 10: Yangshou. Rest day, Moon Hill, Black Buddha Caves, view cormorant night fishing. Includes: (B), (L), (D).
Day 11: Guilin. 25 km boat ride up the Li River, and cycle to Guilin. Includes: (B), (L), (D).
Notes:
Prices Includes:
- All hotel accommodations
- Meals eaten as group
- All group transportation costs (buses, boats, and taxis) including to/from the Guilin airport
- All group entrance fees
- Transport of gear and cyclists when necessary (riders carry their own luggage).
Price Excludes:
- Private meals, snacks and alcoholic beverages.
Bicycle rental is available for $ 100 including bike, panniers, lock, gloves, rain cape and helmet.