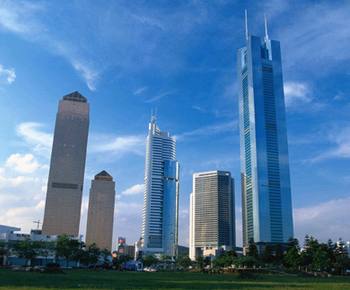 Tour Duration: 11 day(s)
Group Size: 1 - 8 people
Specialty Categories: Bicycle Touring Hiking & Trekking
Season: January - December
Airfare Included: No
Guangzhou is accessible via air from Hong Kong, Singapore, Los Angeles, San Francisco, and most major cities in China. On the first day, the group will meet and there will be a warm-up tour of Guangzhou where we will tour Shamian Island and Qingping Market, Ocean Banner Monastery. At night there will be a Pearl River boat tour.
On day two we will visit a temple, then head west to Sanshui (Three Waters). The following days tour heads north into area with karst landscape and then west into the Yao Minority area. The route continues west into Guangxi Province to one of China's best known landscapes, the karst hills of Guilin. On day nine we will arrive in Yangshou for a well deserved break which will provide an opportunity to explore the area including Moon Hill, visit a Confucian and Buddhist temples, a village during market day, and watch the cormorant bird fishing at night. The tour ends in Guilin which has excellent transportation connections to other parts of China and Hong Kong via air or train.
Your Itinerary
Day 1:Guangzhou - Meet group members/Brief City Tour - Shamian Island, Qingpping Market, Pearl River Boat Tour at night.(B) (L) (D)
Day 2:Sanshui - Temple, Mosque, Sanshui Forest Park(B) (L) (D)
Day 3:Qingyuan - Lubao Ancestral Temple, Wen Pagoda.(B) (L) (D)
Day 4:Jiulong - Tai He Cave, Yanzi Crag, Rongqiang Miniature Guilin.(B) (L) (D)
Day 5:Yangshan - Yingxi Mountains, Yangyan Cave, Hanyu Angling Terrace, Yao Minority Village(B) (L) (D)
Day 6:Liannan - Huangchuan Three Gorges, Yao Autonomous Region.(B) (L) (D)
Day 7:Hezhou - Cycle 79 km, then take transport for 55 km over a rough section of road(B) (L) (D)
Day 8:Zhongshan - Karst Hill Scenery(B) (L) (D)
Day 9:Yangshou - Confucian Temple(B) (L) (D)
Day 10:Yangshou - Rest Day, Moon Hill, Black Buddha Caves, view cormorant night fishing(B) (L) (D)
Day 11:Guilin - 25 km boat ride up the Li River, and cycle to Guilin. Tour ends.(B) (L)
Notes:
Prices include the following:
1. All hotel accommodations.
2. Meals eaten as group (private meals, snacks and alcoholic beverages are not included).
3. All group transportation costs (buses, boats, and taxis) including to/from the Guilin airport.
4. All group entrance fees.
5. Transport of gear and cyclists when necessary. Riders carry their own luggage.