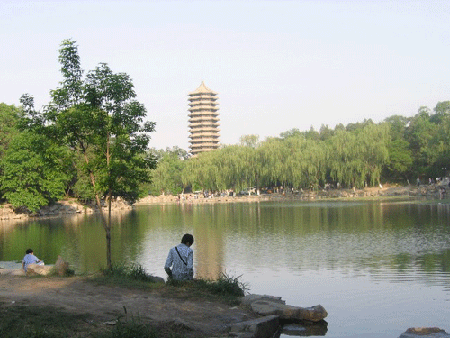 Weiming Lake, Peking University
Weiming Lake is a famous scenic spot in Peking University. In Chinese, "Weiming" means "without being named". Because many people in history tried to name it by capturing its essence, but all failed, so Qian Mu, a famous scholar in China, gave the lake the name.
Located in the center of the campus, the lake was once the royal garden in Qing Dynasty (1644-1911). Today it is still regarded as a sacred lake by many visitors. On the hill of the southern part of the Weiming Lake, there is a tower named Boya. It is an imitation of the Tongzhou Randeng ancient tower. The combination of the lake and the tower forms a distinctive landscape.
The students in Peking University can be seen reading and studying beside the lake. In the winter, when the lake freezes, the students skate on it.
Transportation: take bus No.209, 332, 394, 718 or 808 and get off at Peking University west gate.