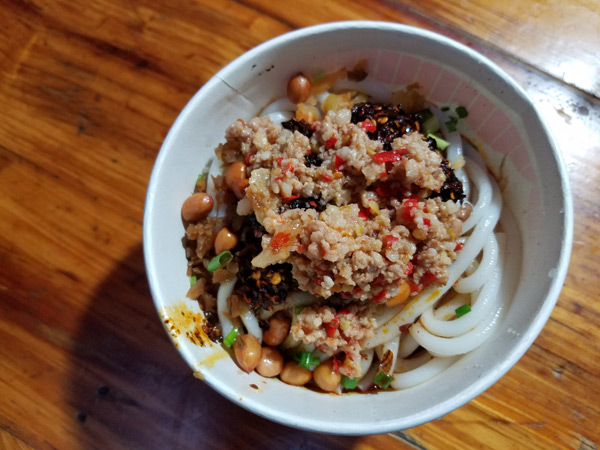 Roumo Pepper Rice Noodle, which costs 6.5 yuan, is packed with chillies and pickles. (Photo by Faisal Kidwai)
It looked like any other noodle and had a lovely name, Roumo Pepper Rice Noodle, so why even after staring at it for past one minute I was hesitant to try it? Well, don't let the name fool you.
As I pondered whether to try it or not, I began wondering why Guizhou was not as famous, if not more, as Sichuan for its spicy food. The province in southwest China is brimming with dishes that will test even the toughest spice eaters.
And this noodle packs a heavy punch. While the cooking method varies, the basic recipe remains the same: Minced meat, peanuts, pickles and lots of red and green chilies.
But it's not just the spices that will leave the visitor wanting more. Since the province is not as well-known as other parts of the country, its natural beauty is still untouched.
From soaring mountains to China's highest waterfall to unexplored jungles to unique culture, Guizhou offers rich pickings to the visitor. The province, which neighbors Sichuan and Chongqing in the north, Yunnan in the west, Guangxi in the south and Hunan in the east, enjoys a pleasant climate all year round and its capital, Guiyang, is called the "world's summer resort" because of the moderate temperature.
The first stop in Guiyang should be the Jiaxiu Pavilion. Established during the Ming Dynasty (1368-1644), it is the city's main symbol. The three-story structure is 20-meter-high and 12 stone pillars support the upturned eaves.
If architecture is not your cup of tea, then visit one of the tea houses and enjoy the many varieties of local teas or spend an evening in the downtown area that is dotted with skyscrapers and plush shopping malls where you can find everything, from Guizhou delicacies to Armani suits.
Guiyang is one of those places where even a week is not enough. Some of the major attractions near the city include the ancient town of Qingyan, Hongfeng lake where the leaves on maple trees turn red in fall, and Tianhe Pool Scenic Area constructed during the Qing Dynasty (1644-1911).
P.S. In case you are wondering whether I tried that mouth-burning noodle or not. Yes, I did, but stopped midway as by then my ears and eyes were on fire. To those who are able to finish it, I tip my hat to you.
Jianxi Pavillion is a must-see landmark in Guiyang. (Photo by Faisal Kidwai)