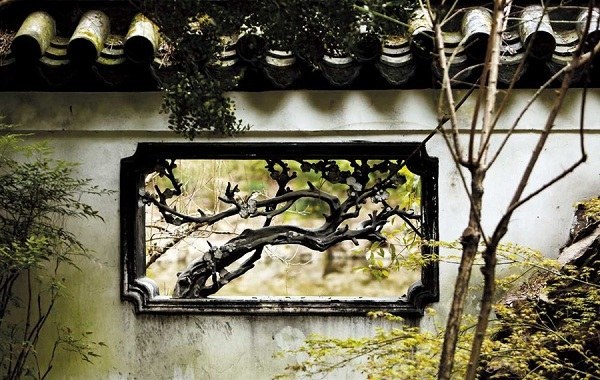 Windows carved with tree patterns adorn many corners of the Huilong Pond Garden. — (Jiang Xiaowei)
Sometimes it's hard to understand the mindset of ancient Chinese scholars who built gorgeous gardens but guarded them from public view behind closed doors.
The founder of Huilong Pond Garden in northern Shanghai's Jiading District was not so selfish and narrow-minded. He wanted a garden that would enchant and entice the public.
Looking north as you drive along Shaxia Road, you see some of the garden's features reveal themselves — Yingkui Hill, the pond and the pavilion in the middle of the lake.
The rest of the garden is tucked away behind lush greenery, inviting you to come inside.
The garden, located in the old town of Jiading, dates back more than 400 years. It was originally built around the 11.3-meter man-made hummock called Yingkui Hill, which is surrounded by Huilong Pond fed by five streams. The name means "five dragons gathering in one pond."
The bank of the pond is studded with century-old trees, some trunks almost entirely hollow.
Yingkui Hill was built in 1460 as a partition of sorts, separating the nearby Confucian Temple to the north and Liuguang Temple to the south. Today, only the Confucian Temple remains, converted into a museum to house an exhibit dedicated to China's ancient imperial examination system. The site is open free to the public.
The hill, built up with rocks and earth, is not easy to climb but the view at the top is worth the effort. The path leading to the top is narrow, twisty and steep. On the way up a small stone cave adds an interesting feature to the hummock.
Siyi Pavilion sits on the top of the hill. The two-story brick-and-wood pavilion houses a big bronze bell, engraved with the names of local zhuangyuan, or those who got the highest scores in the national exam.
At the foot of the hill, a zigzagging stone bridge leads to the mid-lake Jiale Pavilion, where you can sit and enjoy a refreshing breeze to cool down after climbing the hill.
Opposite the hill is a white-washed hall with gray roof tiles. Kui Star Hall on the eastern bank of the pond was once a part of the Confucian Temple. It was built during the latter half of the 17th century, destroyed by the Japanese invaders in 1937 and then rebuilt in 1979 to its original style. The only old remnant is a stone slab carved in 1827 with the hall's history.
Kui Star, an ancient Chinese constellation, was worshipped as the god of scholarship. The hall was once a shrine where literati prayed for a smooth academic career.