Glacial Vestiges
0 Comment(s)Print E-mail China.org.cn, May 17, 2008
Adjust font size:
On the slopes of Cuiwei Mountain near the Fahai Temple, a number of vestiges of the Ice Age can be seen. First discovered in 1954 by the geologist Li Jie, this important geological landmark was listed alongside the "Eight Great Sites of Yanjing" by Li Xianyue, head of the Beijing Museum of Natural History.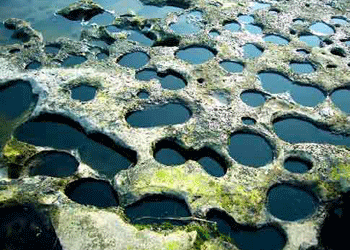 These ancient remains date from the Quaternary Period, some 2.5 million years ago. Several hundred million years earlier, however, the Beijing area was engulfed several times by the sea. Due to climatic variations, the glaciers alternately advanced and receded, carting with them large quantities of rock which continually scraped away at the earth's surface, leaving traces of their movements in the brown base rock.
By using the method developed by the geologist Li Siguang, one will be able to discover the traces of the glacial period: Sprinkle water onto the brown base rock along the mountain slope, and the marks of the glacial abrasion will gradually come into view.
Travel tips:
Address: Moshikou, Shijing Moutain District, at the foot of Cuiwei Mountain, west suburbs of Beijing;
Entry ticket: 5 yuan for adult; 3 yuan for student
Opening hours: 9:00-16:00
Transportation: Take Bus No. 311 and get off at Moshikou Stop or take Bus No. 336 to Shougangxiaoqu Stop
Tel: 01088722585; 68875776
(China.org.cn May 17,2008)