National Centre for the Performing Arts
0 Comment(s)Print E-mail China.org.cn, May 18, 2008
Adjust font size:
National Centre for the Performing Arts (NCPA) 国家大剧院
Tian'anmen
2 Chang'an Jie, Xicheng District
西城区西长安街2号
Tel: 010-66550000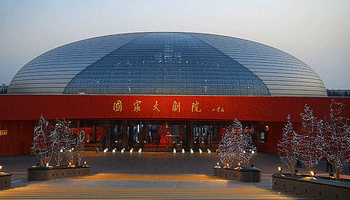 This is China's premier performance-art venue. Designed by French architect Paul Andreu, the complex provides an opera house, a music hall and a drama theatre with a total of 6,200 seats. The giant silver dome to the west of Tiananmen Square is an architectural icon.