Shijingshan Amusement Park
0 Comment(s)Print E-mail China.org.cn, May 20, 2008
Adjust font size:
Beijing Shijingshan Amusement Park lies in the extended line of the west Chang'an avenue, is 15 km away from the Tian'anmen Square. The park, first opened on September 28, 1986, is currently owned and operated by the Shijingshan District government. The park is accessible via the Line 1 of the Beijing Subway. It has its own stop called Bajiao Amusement Park.The slogan of this park is "it is to far to go to Disney. Please come to Shijingshan Amusement Park."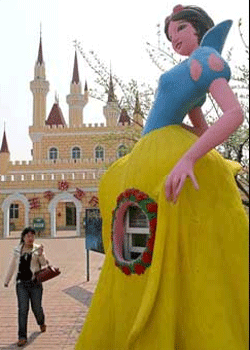 Shijingshan Amusement Park
Travel tips:
Address: 25, Shijingshan Road, Shijingshan District;
Entry Ticket: 10yuan; Free (if you buy all pass ticket A, 80yuan; B, 60yuan; C, 100yuan);
Opening Hours: 8:30-17:00;
Transportation: Bus No. 337, 327, 325, 354, 385, 389, 817, 959, 958, 728, 622 or 965;
Tel: 010-68876016; 68862574.