By Train
0 Comment(s)Print E-mail Wikitravel, June 2, 2008
Adjust font size:
Beijing has many railway stations. Most trains arrive at the central or West stations.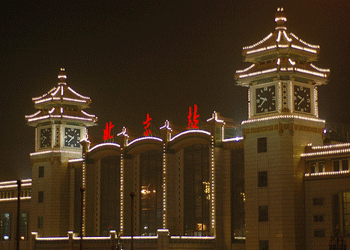 Beijing Railway Station (北京站). In the heart of the city, with decent public transport links. Destinations include: Changchun, Chengde, Dalian, Fuzhou, Guangzhou, Hangzhou, Harbin, Hefei, Jilin, Nanjing, Qiqihar, Shanghai, Shenyang, Suzhou, Tianjin, and Yangzhou. The trains for Mongolia (Ulaanbaatar), Russia, and North Korea also leave from here.
Beijing West Railway Station (北京西站). Presently the largest. This station has no connection to the metro system - the only ways out are the packed public buses or the underground taxi rank, which usually has at least a ten minute queue. Destinations include: Changsha, Chengdu, Chongqing, Datong, Fuzhou, Guangzhou, Guilin, Guiyang, Hefei, Hohhot, Hong Kong, Kunming, Lanzhou, Lhasa, Ningbo, Qinhuangdao, Sanya, Shenzhen, Taiyuan, Urumqi, Xi'an, and Xiamen.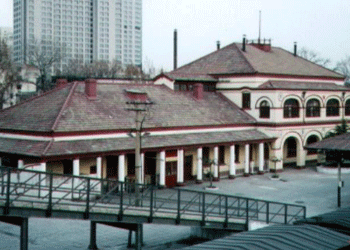 Beijing North Railway Station (北京北站). Very small compared to the previous two, but you might end up here if you are coming in from Inner Mongolia. Destinations include Chifeng (赤峰), Fuxin (阜新), Haila'er (海拉尔), Hohhot, Longhua (隆化), Luanping (滦平), Nankou (南口), Shacheng (沙城via Badaling), Tongliao (通辽), and Zhangjiakou (张家口).
Beijing East Railway Station (北京东站). One daily service to Chengde only.
Beijing South Railway Station (北京南站). Closed until 2008, when it will reopen to offer high-speed services to Tianjin.