Dini's kosher restaurant
0 Comment(s)Print E-mail Ynetnews.com, September 16, 2008
Adjust font size:
It may be the third-largest country in the world, and visited by thousands of Jewish and Israeli tourists every year, but in all of China there is only one kosher restaurant: Dini's, in Beijing.
This diner is not just the only place in China that offers its guests matzo ball soup, kugel, and Moroccan cigars eaten with chopsticks, it's also the only place where a mitzvah-keeping tourist can sample local delicacies such as dim-sum and Sichuan chicken made with all-kosher ingredients, while listening to the head rabbi's daughter answer questions about the Torah's Portion of the Week every Friday evening.
The average price per customer is 120 yuan (around NIS 60), which is not cheap by Chinese standards, but the restaurant is a life-saver for members of the Jewish community residing in the city, as well as the increasing amount of Israeli tourists and businessmen that visit there. And it even delivers.
"The days in which Jews had to wander through China with suitcases full of preserved food are over," said Rabbi Shimon Freundlich, Chabad's envoy to Beijing.
According to the restaurant's manager, Ohad Tiktinski, locals have also begun to frequent Dini's, due to their belief that kosher food is healthier and cleaner. However even the Chinese people, who are rumored to consume everything that has four legs other than the kitchen table, have their limits. They refuse to touch the gefilte fish.
Location: Dinis's is located in the northeast of Beijing, just off Nu Ren Jie (the Woman's Street); across from the New American Embassy, and a five minute walk from the Israeli Embassy.

Phone: +86 (0) 10 6461 6220, +86 (0)10 6556 2045
Fax: +86 (0) 10 6461 3735
Email: info@kosherbeijing.com
Opening Hours: Sun - Thurs 11am - 10pm (last order)
Friday 11:00 am - till 2 hrs before shabbat begins (sundown)
Saturday night - opens 30 minutes after shabbat ends (one hour after sundown)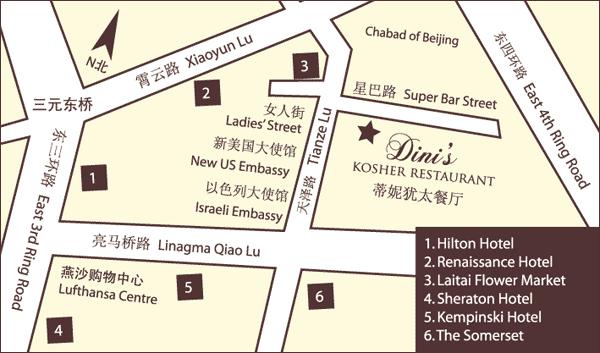 (Israel Jewish Scene by Boaz Arad September 16, 2008)