By Hou Xiaoying
The government of Yuanmou County announced on September 1 that the famous Clay Forest tourist attraction was seriously damaged by the August 30 Panzhihua-Huili earthquake. Around 40 clay pillars collapsed and the site has been temporarily closed to the public.
Fortunately, the other major cultural site in Yuanmou, the site of Yuanmou Man where remains of Homo erectus were discovered in 1965, was not affected, according to a China News Service report on September 1.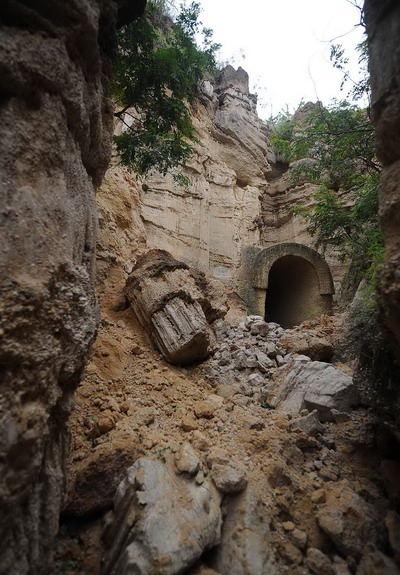 The 6.1-magnitude earthquake that jolted Sichuan Province last Saturday caused more than 30 of the pillars in the Clay Forest to collapse in Yuanmou, Yi Autonomous Prefecture in Yunnan Province, on September 2, 2008. The tourist attraction has been temporarily closed to the public. [Xinuhua] 
The earthquake caused at least 37 of the Clay Forest's pillars to collapse and damage may well turn out to be more extensive, as some areas remained inaccessible to the team that surveyed the site after the quake.
The 1.5 million year-old Yuanmou Clay Forest is the best preserved example of this rare type of landscape in the world. Its views were made famous by the feature films Riding Alone for Thousands of Miles and The Promise which used the Yuanmou scenery as backdrops.
Although less than 40 collapsed pillars out of many more than a thousand may not seem a devastating blow to the forest, the Yuanmou Tourism Bureau pointed out that the pillars are irreplaceable. The bureau's Deputy Manager Qiao Pengyun said, "We have suffered a great loss. The Clay Forest has been here for 1.5 million years and has been hit by many earthquakes, but never one as destructive as this."
Qiao said the site will re-open to the public on September 20 provided there are no more earthquakes. "The site needs to be thoroughly checked and cleaned. Some pillars will need to be reinforced and we may have to close some trails to protect the safety of visitors. Visitor safety is our first priority."
By contrast the Yuanmou Man site did not suffer serious damage. Some archaeologists believe a close relative of modern man, Homo erectus, lived in the area up to 1.7 million years ago. The main modern feature of the Yuanmou Man tourist site is a huge stone stele, which, Qiao said, was not affected by the quake.