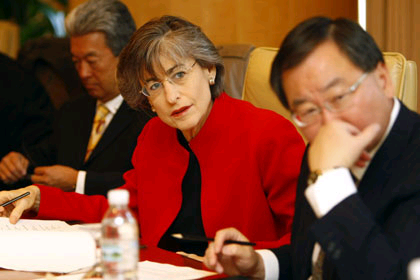 Hawaii Tourism Authority CEO Lloyd I. Unebasami (from left), Hawaii Governor Linda Lingle and Theodore E. Liu, director of the Hawaii Department of Business, Economic Development and Tourism, attend a news conference at the JW Marriot Hotel in Shanghai yesterday.
Hawaii has embarked on a major campaign to lure Shanghai residents to the picturesque islands.
Officials from the United States Pacific Ocean state are now exploring the possibility of direct flights from Hawaii's international airports in Honolulu, Kona and Hilo to Shanghai and other Chinese mainland cities.
Hawaii Governor Linda Lingle yesterday met executives of several Chinese airlines, including China Eastern Airlines, to discuss the issue. Lingle is in Shanghai for the China International Travel Mart that opened yesterday and will conclude on Sunday.
The governor came to town on an aggressive mission to promote Hawaii among Chinese tourists, as well as to advance business investments and partnerships.
For Hawaii, China holds tremendous potential. In 2007, Chinese visitors to the islands totaled 56,500.
Visitor levels increased 4 percent through the first 10 months of this year compared with the same period last year. The figure is expected to double, reaching 120,000 in 2009, according to Hawaii officials.
"Our state has enjoyed and nurtured a sound relationship with China as early as the mid-1800s," the governor said. "It is critical for us to reach out to emerging markets like China and encourage people to visit Hawaii. We want to ensure our state is well positioned with increased flights and air-seat capacity."
Shanghai is the last stop in the governor's 12-day Asia tour after Bali and Taipei. The focus of her trip remained on China's mainland, which eased restrictions on leisure travel to the US earlier this year.
(Shanghai Daily November 21, 2008)