Chinese hurdler Liu Xiang has said he will run even faster after he fully recovers from a tendon injury that forced the 2004 Olympic champion out of the Beijing Olympics on Monday morning.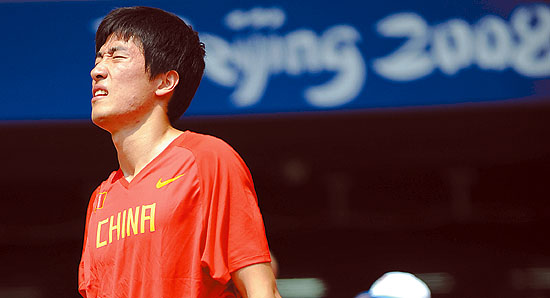 Chinese hurdler Liu Xiang has said he will run even faster after he fully recovers from a tendon injury.
In an open letter posted on Tuesday on the online journal of Feng Shuyong, Chinese athletics head coach, Liu said he feels very sorry for his sudden pull-out that disappointed all.
China's leading news portals including Xinhuanet, Sohu and Sina all carry Liu's letter. The translation of the letter is as follows:
To all people who care about and support me:
Thanks for all the people who understand and support me. At this moment, I feel sorry and my heart goes to those who are still disappointed at my pull-out.
July 13, 2001, the day when Beijing won the bid for the 2008 Olympic Games, marked my 18th birthday. My birthday celebrations happened to be connected with the jubilation over the successful bid. I was just an unknown athlete back then, but to compete at the Beijing Olympic Games is a dream for every athlete -- and I have been making 100 percent of my efforts to reach this goal.
My Olympic champion dream came true in the 2004 Athens Games. Since then, I set an unshakable goal to successfully defend my Olympic title on home soil. I've always loved facing challenges and have never quit. That's what I am. Just like when I stepped on Greek soil, I've always had faith in myself.
However, as I won more titles and received more attention and support, I've also felt growing pressure and disturbances in my life. I cannot go partying like other people of my age, and I can feel the expectations of the whole nation in every minute.
I know everyone was keenly expecting me to run yesterday. I wanted, as much as you did, to cross the finish, a scene you have already got used to. But my feet...Please believe me. The sadness and pain I have been through are never less than yours. Please believe me. I am still the same old Liu Xiang you have known.
I really appreciate the text messages and phones calls I received from you, my friends, after I withdrew from the race injured. From the bottom of my heart, I thank my friends who understand, support and encourage me all the way. I also thank the Chinese people for supporting me and awarding me huge honors all these years.
I believe in my capability. You will see a faster Liu Xiang.
(Xinhua News Agency August 19, 2008)