Hurricane Gustav landed on the U.S. state of Louisiana Monday morning, making its landfall on the southwest of New Orleans city, the National Hurricane Center said.
The eye of Gustav made the landfall near Cocodrie, Louisiana, about 10:30 a.m. ET (1500 GMT) as a Category 2, moving about 177 kilometers per hour, the center said.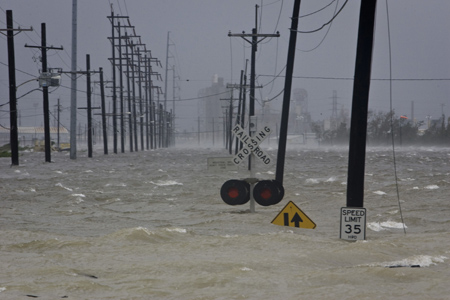 A street at a railroad crossing near the Inner Harbor Navigational Canal is flooded as Hurricane Gustav hits New Orleans, Louisiana September 1, 2008. The center of Hurricane Gustav came ashore as a Category 2 hurricane near Cocodrie, Louisiana, the U.S. National Hurricane Center said on Monday. [Chinadaily.com.cn via Agencies]
At a news briefing in Texas, President George W. Bush said that the emergency response to Hurricane Gustav was "a lot better" than the reaction to the 2005 Hurricane Katrina, leaving more than 1,800 killed and New Orleans devastated.
"The coordination on this storm is a lot better than during Katrina," Bush said at the state Emergency Operations Center in Austin.
However, he warned the danger to the Gulf Coast from Gustav was far from over and it remains a "serious event."
The president cancel his trip to the Republican National Convention in Minnesota starting on Monday and traveled to Austin and San Antonio in Texas, instead, about 640 kilometers away from the Gustav-hit area in Louisiana.
Gustav was downgraded to a Category 2 storm by mid-Monday morning, compared to Katrina, a Category 3 storm.
CNN TV footage broadcast live from New Orleans showed that strong wind swirled rains and swept the city, leaving floodwater overtopping an industrial canal levee.
The CNN report said local police had fled the area and warned reporters to withdraw immediately.
Gustav has killed over 80 persons when it hit the Caribbean region, and was expected to pass through Louisiana, Texas and Mississippi early this week.
Millions of people in Louisiana have been evacuated as the so-called "the storm of the century" loomed. New Orleans, which is still recovering from the catastrophic hit by Hurricane Katrina in 2005, has been put on full alert.
David Paulison, director of the Federal Emergency Management Agency, told reporters earlier on Monday that "unprecedented cooperation" has been ongoing among federal agencies and the private sector.
He said that local residents were offered with help even before the storm came, which significantly eased evacuations. But for those who still stay in New Orleans, "it was their choice."