On today's Chopsticks, we follow our host Jennifer Hsiung to learn how to make an authentic Sichuan dish called "Kong Pao Crystal Shrimp Balls" with the chef at Beijing's South Beauty Restaurant.
Sichuan cuisine is one of the most renowned varieties of Chinese food and is famous for its tongue-numbing spicy taste. This dish is a representative of Sichuan food combined with seafood.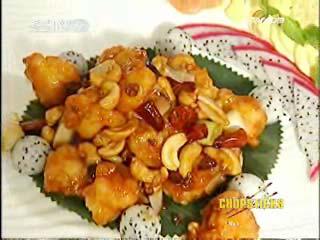 Step 1. Heat the wok and add cooking oil.
Marinate the shrimp balls: Add white pepper, Chinese rice wine, salt, half an egg white and lastly cornstarch. Mix together.
Step 2. Stir-fry the marinated shrimp balls in hot oil until golden.
Step 3. Remove the shrimp balls from the wok. Prepare the sauce.
Step 4. Sauce: salt, white pepper, chicken powder, 4 tsp sugar, 1 tsp Chinese rice wine, 1 tsp sesame oil, 3 tsp vinegar, 1 tsp ketchup, a little cornstarch.
Step 5. Add oil and heat the wok over medium-high to high heat. Add dried red chilli peppers, sliced garlic, sliced ginger, Chinese onion and shrimp balls. Add sauce last.
Step 6. Add cashew nuts, stir and remove from the wok.
(CCTV November 18, 2008)