At 6:58 p.m. on July 17, the storage volume of Miyun Reservoir in Beijing surpassed 2.2 billion cubic meters, and its water level reached 146.31 meters, both new records since 1999.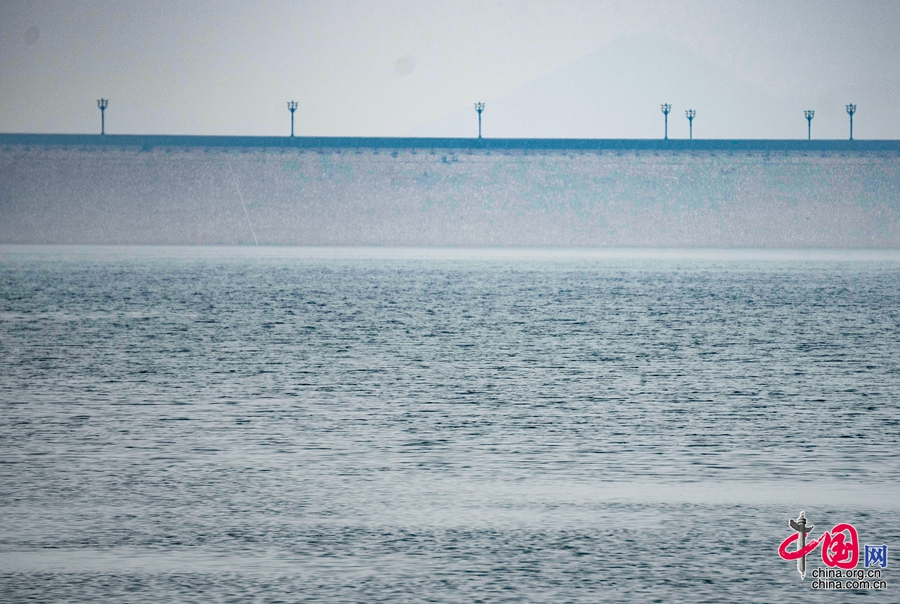 Photo shows the scenery of Miyun Reservoir in northern Beijing. [Photo by Sun Tao/China.org.cn]
Compared with the data at 8:00 a.m. on July 15, the water level increased by 0.39 meters and the storage volume rose by 52.4 million cubic meters, as a result from the recent torrential rainfall that broke out in the Miyun Reservoir region starting at around 11 p.m. on July 15.
According to the municipal water authority, the average rainfall in the region reached 67.2 millimeters by 7 p.m. on July 17, and one of the two inflow stations of the reservoir encountered the largest flood peak over the past 20 years with a flow of 1,300 cubic meters per second.
The reservoir with a designed storage capacity of 4.3 billion cubic meters has been operating since 1999, and its water storage was only over 0.88 billion cubic meters. Thanks to the central route of the South-to-North Water Diversion Project operational at the end of 2014, the reservoir has reduced its outflowing water. The reversed water transfer to the reservoir started at the end of 2015 and increased its water storage year by year.
Since 2016, the water storage of the reservoir increased from less than 1.2 billion cubic meters to 2.2 billion cubic meters. The figure surpassed 2 billion cubic meters on Nov. 19, 2017. Five months later, on April 28, the storage volume exceeded 2.1 billion cubic meters, and increased another 100 million cubic meters over the next three months.