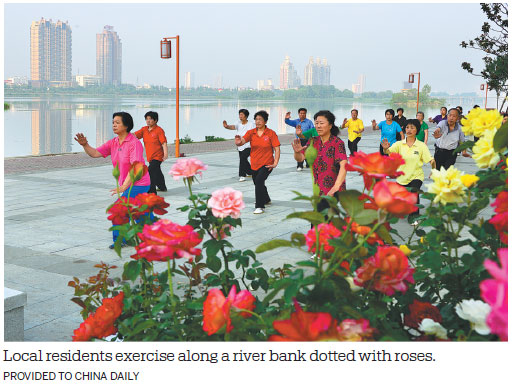 The home of Chinese roses is poised to welcome growers and experts from across the globe for the 2019 World Federation of Rose Societies' Regional Convention, the organization's most significant annual event, from April 28 to May 2.
Nanyang, a city in Central China's Henan province, has earned a reputation as China's rose-breeding heart and soul. Its cultivation history can be traced back over 2,000 years.
Legend has it that Liu Xiu, the founding emperor of China's Eastern Han Dynasty (25-220), was chased and almost killed by the rebel Wang Mang before he was enthroned. The emperor-to-be had to hide himself in a cluster of Chinese roses in today's Shiqiao town of Nanyang to avoid being found.
After he ascended to the throne, the emperor remembered the rose bush's role in saving his life and designated it "Queen of the Flowers." Since then, rose breeding and cultivation has been carried on for generations.
"Chinese roses are unique because they have a longer blossoming period," said Zhang Zuoshuang, president of the Chinese Rose Society, one of the host organizations of the upcoming convention. "Without Chinese roses, the global rose society would not be as diversified."
The World Federation of Rose Societies, or WFRS, was founded in 1968 in London by representatives from the rose societies of Australia, Belgium, Israel, New Zealand, Romania, South Africa, Great Britain and the United States. Its stated purpose was to hold international rose conferences and act as a clearing house for rose research.
"More than 100,000 people are engaged in the rose industry in Nanyang," said WFRS President Henrianne de Briey in a welcome address. "The city has also made great progress on rose research, promoting the genus of Chinese roses."
According to the Nanyang municipal government, the planting area of Chinese roses in the city has reached more than 6,600 hectares.
Every year, about 80 percent of rose output in the domestic market and more than 70 percent of China's rose exports are supplied by Nanyang.
Nanyang also has a major rose gene bank and preserves more than 2,300 cultivars of Chinese roses.
Nanyang, the host city of the 2019 WFRS Regional Convention, is a renowned historical and cultural city in the southwest of Henan province.
As the origin of the central route of the South-to-North Water Diversion Project, which supplies water from the Yangtze River basin to areas of North China, Nanyang is also famous for its ecology.
The history, culture and ecology, as well as many natural wonders, have made the city a favored tourist destination in Henan province.
The city is also one of the economic powerhouses in Henan with a solid industrial foundation and well-established transportation networks.
Its foundation and networks allow Nanyang to excel in the agriculture, equipment manufacturing, energy, metallurgy, chemical, textile, food and tourism industries.
The city is one of few transportation hubs in Henan with a dense network of highways and railways as well as an airport that links it to the rest of the country.
In 2018, Nanyang's GDP reached 356.68 billion yuan (US$53.15), ranking third in the province. Its foreign trade volume hit US$2.57 billion, taking second place among all cities in Henan.