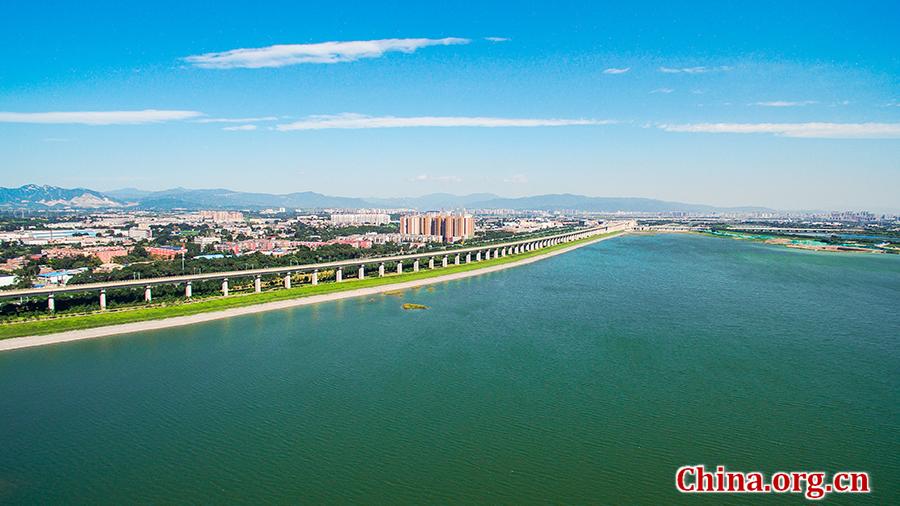 The photo shows the Daning Surge Tank, the first stop in Beijing that diverts water from the central route of the South-to-North Water Diversion Project. [Photo/China.org.cn]
The level of Beijing's underground water reserves has been rising significantly, authorities said.
By the end of May, the average depth of underground water in Beijing's plain areas stood at 23.32 meters, 2.18 meters higher compared to the same period of 2018, according to the Beijing Water Authority (BWA). The amount of underground water increased by 1.12 billion cubic meters.
Compared with 2015, the water level had risen 3.16 meters, and the amount of underground water rose by 1.62 billion cubic meters, according to the BWA.
Since the south-to-north water diversion project began bringing water to Beijing, water resources in the Chinese capital have been recovering, with the underground water level rising since 2016.
The water diversion project carries 9.5 billion cubic meters of water each year through canals and pipes from the Danjiangkou reservoir in central China's Hubei Province to the provinces of Henan and Hebei as well as Tianjin and Beijing.
Last year, average precipitation in Beijing was 590 millimeters, about 1 percent more than the average from previous years.
The underground water level in Beijing will continue to rise regularly in the future, according to the BWA.