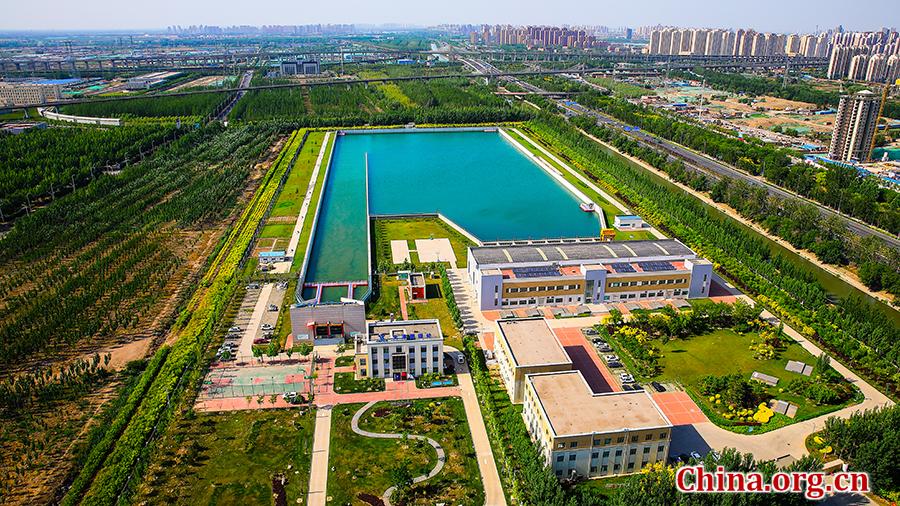 The photo shows the Waihuan River along the central route of the South-to-North Water Diversion Project. The river is located in Tianjin. [Photo/China.org.cn]
With North China facing a water shortage, the central government is carrying out measures to conserve underground water, especially in the Beijing-Tianjin-Hebei region, according to a recent guideline issued by four ministries.
More water from the Yellow River and the eastern route of the South-to-North Water Diversion Project will be directed to North China to help address the area's water scarcity, according to the guideline.
Research by the Chinese Academy of Sciences last April shows that from 2002 to 2014, about 6 billion to 8 billion metric tons of groundwater was lost annually in North China, a trend it expected to continue.
Li Wenpeng, senior engineer of underground water monitoring at the China Geological Survey, an institute under the Ministry of Natural Resources, said agricultural use was the main reason for the over-extraction because underground water quality is better for irrigation than surface water.
However, he said that over-exploitation can cause surface subsidence - a drop in the level of the ground - because the water, deep underground, formed 10,000 or even 30,000 years ago and can support the surface above.
"Because of the excessive exploitation, the ground in northern cities such as Beijing, Tianjin, and Cangzhou in Hebei province, has subsided," he said. "The subsidence can lead to flood drainage problems in big cities and harm the functioning of railway systems."
To prevent further subsidence and enrich water resources, the guideline, issued by the Ministry of Water Resources together with the Ministry of Finance, the National Development and Reform Commission and the Ministry of Agriculture and Rural Affairs, aims to strike a balance between underground water exploitation and replenishment in North China.
In addition to replenishment, other measures include conserving water for agricultural and industrial use and strictly supervising the excessive exploitation of underground water.
To save water, the guideline encourages spray irrigation rather than flood irrigation, and controls on planting crops that consume a lot of water. It also said businesses that use a lot of water, such as car washes, bathhouses, hotels and golf courses should be limited by quotas.
In areas with bans on underground water exploitation, no more high water-consuming projects are allowed, the guideline said.