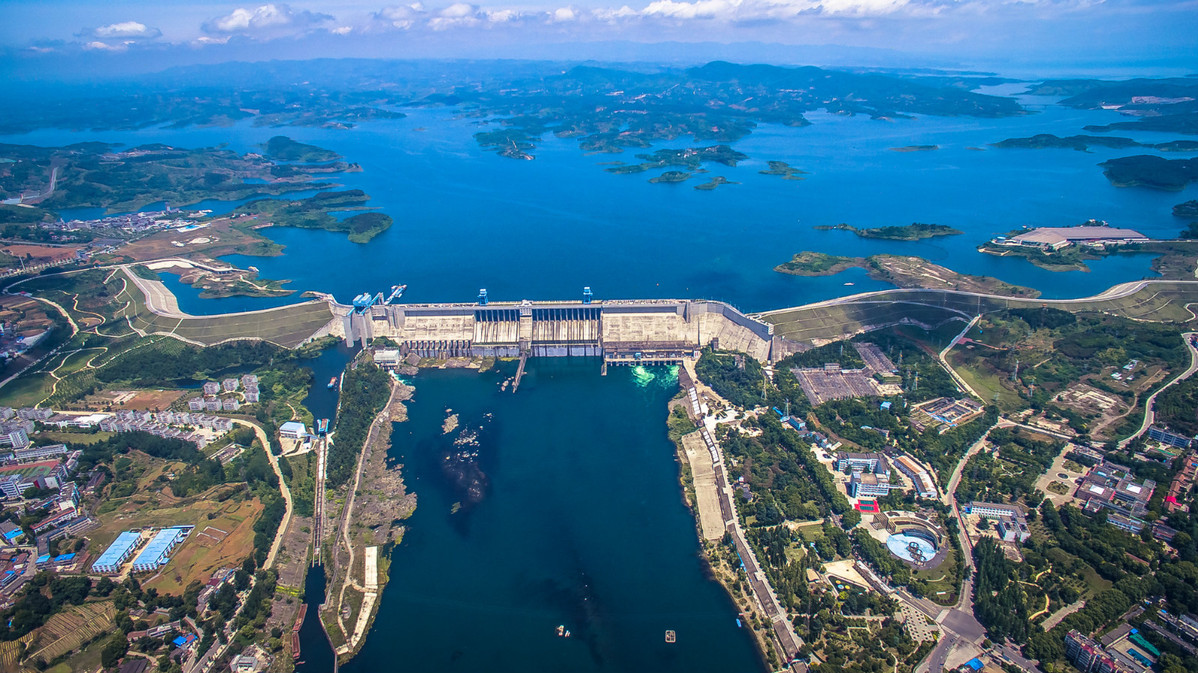 An aerial view of the Danjiangkou Dam in Hubei province. The reservoir is the start of the middle route of the South-North Water Diversion Project. [Photo provided to China Daily]
In the living room of Zhang Hongan's two-story house in Shiyan city, Hubei province, stand a battered desk and several old wooden stools, which seem at odds with the marble floor, leather sofa and modern appliances.
However, it's not unusual to find old items in the well-designed neighborhood that is home to 160 families who moved to higher ground 10 years ago. They relocated to ensure the viability of the South-North Water Diversion Project — the world's largest such undertaking — which carries supplies from the Yangtze River in China's south to the drought-prone north.
In 2009, the walls of the Danjiangkou Reservoir — the start of the middle route of the diversion project — on the Hanjiang River were raised to 176.6 meters as the water level rose to 170 meters.
More than 345,000 locals like Zhang, mostly farmers who lived in the area around the reservoir, moved to about 600 government-built villages across the central provinces of Hubei and Henan to avoid being flooded out of their homes.
The 68-year-old left his old wood-and-brick house and resettled on the outskirts of Shiyan, bringing along the tattered furniture that has accompanied him for over 20 years.
"I'm not a penny-pincher who is unwilling to purchase new things. It's just not easy to totally abandon my old home and community comforts. I kept this old stuff to help me rebuild my life from scratch," he said.
Even though there were hard feelings initially because people had to say goodbye to the land that had nourished them, they were compensated with new apartments equipped with running water, internet connections and indoor toilets — amenities lacking in their old homes. They were also given relocation money and skills training to help them adjust to their new lives.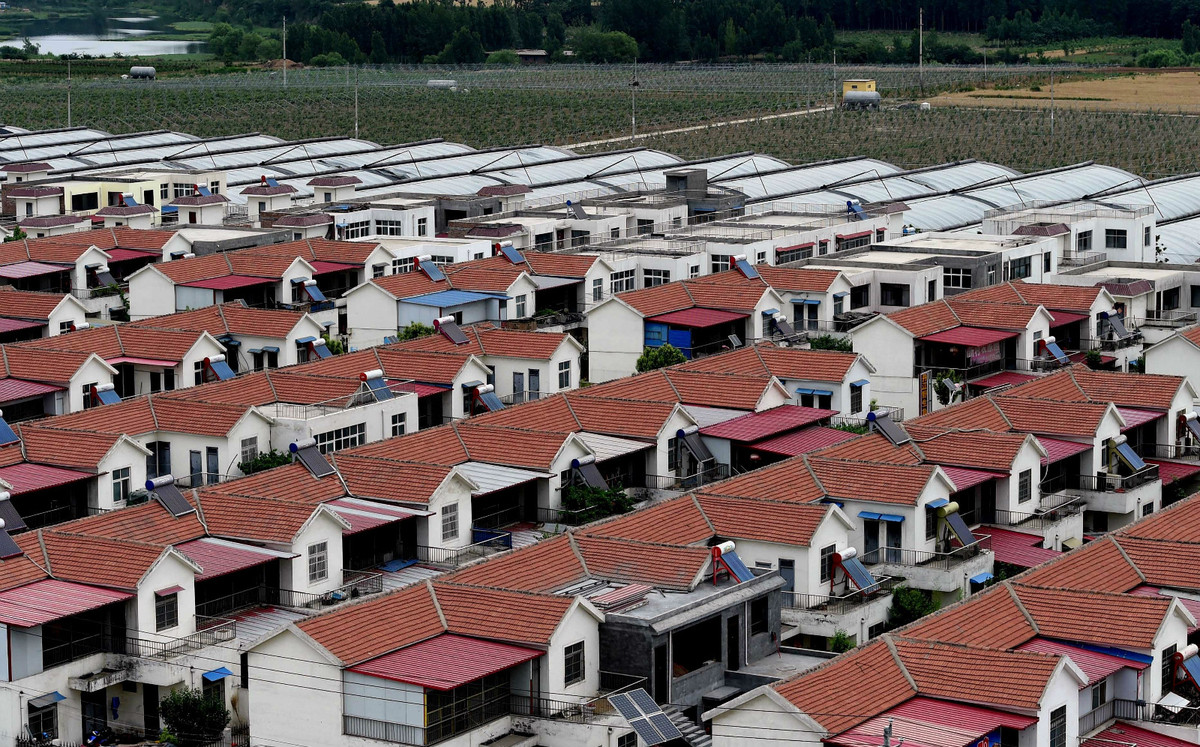 Newly built houses cover the landscape. [Photo/Xinhua]
Coming home
Wang Shicheng, from Erdaohe village in Shiyan, used to work in Shenzhen, Guangdong province. The 36-year-old decided to return to his hometown in the wake of the relocation project, when several factories were built as part of government efforts to boost living standards.
Like many of his youthful peers, Wang left for Shenzhen more than 15 years ago, because the old village — also called Erdaohe — could offer little but endless farm chores.
"I saw my grandfather and father living at the mercy of the weather and toiling on the mountains for decades. However, it didn't provide them with a good standard of living," he said.
Wang started work at an electronics factory in Shenzhen straight after graduating from high school. Though working and living in a big city was an eye-opening experience, his memories of, and relationships in, the small village made him homesick, luring him back from time to time.
After hearing that the government had built a number of factories and was providing villagers with free training to facilitate their move into the urban labor market, Wang and his wife joined the first batch of returnees.
Zhang Zhibin, Party secretary of Erdaohe, said: "As less arable land became available because of the water diversion project, a lot of villagers chose to transfer their land to the rural cooperative and become shareholders. They had been freed from farmwork and needed nonagricultural jobs."
However, they were relatively poorly educated, and most lacked skills. So, the local government provided a range of training, from making clothes to cooking, several times a year to help villagers land jobs when they finished their courses, he added.
According to the Ministry of Water Resources, the central government invested more than 4 billion yuan to assist the resettlement across the two provinces, in addition to providing over 150,000 people with training.
At a media briefing this month, Jiang Xuguang, vice-minister at the ministry, said, "The annual per capita income of people from Danjiangkou has reached more than 10,000 yuan (US$1,426), much higher than before relocation."
Though Zhang's monthly salary of 4,000 yuan as a delivery driver for the factory is not as high as in Shenzhen, the job provides "a big bonus" because the workplace is just a 10-minute walk from his home, which allows him to take good care of his family.
"Now, we finally have more life choices at home, instead of being tied to the land. With improved infrastructure and more opportunities, it is a good place to enjoy my life," he said.