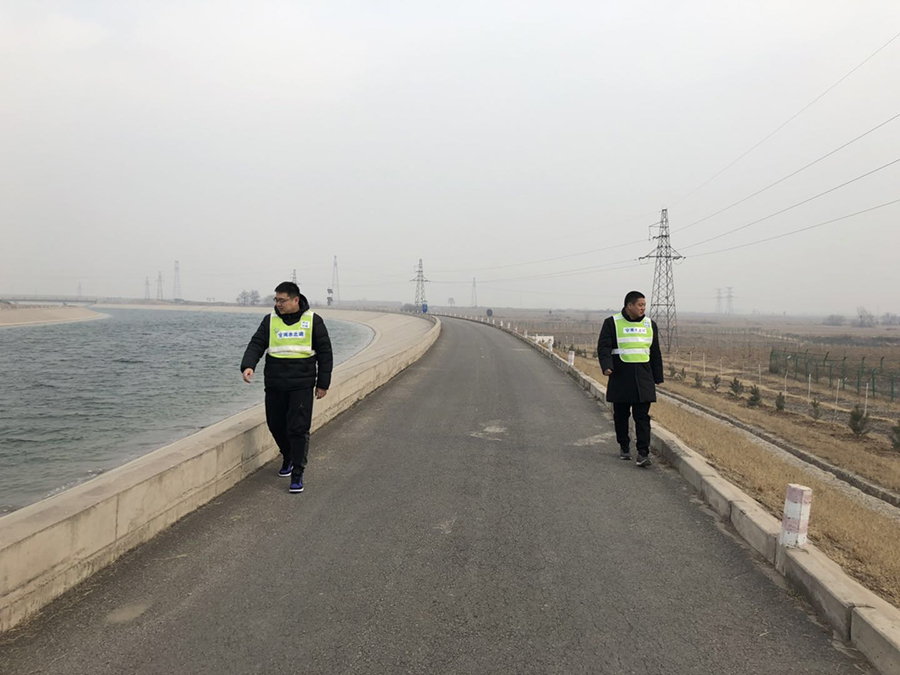 More than 1,000 staff worked through the Chinese New Year holidays to ensure the continued operations of the eastern and central routes of the South-to-North Water Diversion Project. During those seven days, the routes smoothly carried about 100 million cubic meters of water to the north.
"We must make sure that the project runs safely," said Yu Hequn, director of the Construction and Administration Bureau of South-to-North Water Diversion Middle Route Project. He inspected the Fangcheng Administration Office at the canal headworks of the project on Feb. 3, one day before the Lunar New Year's Eve.
On Feb. 4, Che Chuanjin, director of the Shahe Administration Office, paid a visit to the canal and extended festive greetings to the maintenance staff and watchkeepers there. At 6 p.m. that day, Jin Sanke and his colleagues began their night patrol, covering 17 buildings and 34 steel gates.
On Feb. 5, the first day of the Year of the Pig, staff of the Baoding Administration Office came very early on duty. Bai Wuzhi, director of the office, inspected the records carefully. He required his fellows to implement safety measures and report timely regarding important and emergent situations.
On Feb. 6, the operator on duty at the Hebi Administration Office spotted a fire alarm at Zhaojiaqu Canal, and promptly notified the security staff. Liu Jingyang and Sun Jiaqi, who at that time were close to the spot, extinguished the fire in half an hour.
Li Yitao, director of the Zibo Administration Office, worked during the Chinese New Year holidays for two consecutive years. During this year's patrol, he also spotted a fire near the Xiaoqinghe Dam, and quickly extinguished it.
At the Taicang Regulator Project, there were 18 staff sticking to their posts during the holidays. As usual, they inspected equipment, timely reported water information, made routine records and checked safety hazards to ensure safe operation of the project.
The operation and maintenance staff at the Administration Office of the Xinglong Hydropower Station also insisted on 24-hour duty. They carried out on-site inspections, closely monitored the load changes, and timely dealt with potential safety hazards. They even strengthened the inspection of the equipment and checked the oil, gas, water and other systems every hour, and safeguarded the power supply.