The much-awaited and the ever- biggest offensive since the collapse of Taliban regime in late 2001 was launched against Taliban fiefdom in Marja district of southern Helmand province Saturday amid Taliban vow to defend tooth and nail.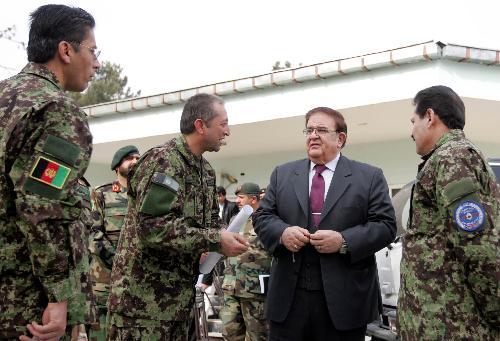 Afghan Minister of Defense Abdul Rahim Wardak (2nd R) speaks with officers regarding Helmand operation in Kabul, capital of Afghanistan, Feb. 13, 2010. Hours after launching major offensive by NATO and Afghan soldiers against Taliban militants in Marjah district of southern Helmand province, Afghan Minister of Defense Abdul Rahim Wardak said that several areas have been captured and clash for control of Marja Bazaar is going on. [Xinhua]
Regarded as the breeding center of militancy and main stronghold of Taliban fighters in south Afghanistan, the strategically important Marja district enables Taliban to influence the neighboring Nawa, Nad Ali, Babaji districts as well as the provincial capital Lashkar Gah.
Aimed at rooting out the Taliban insurgents, ensuring lasting peace, brining good governance and accelerating reconstruction process, the operation dubbed "Mushtarak" which means together, according to officials, began with the involvement of some 15,000 Afghan and the NATO-led troops including U.S. Marines and has been going on smoothly. Since kicking off the operation, according to Afghan top commander in southern region General Shir Mohammad Zazai, 20 militants have been killed and 11 others arrested.

Furthermore, Afghan Defense Minister General Abdul Rahim Wardak told newsmen Saturday that the troops had easily reached the bazaar of Marja and had consolidated their positions in many areas without facing a major resistance.
On the other hand, Taliban spokesman Qari Yusuf Ahmadi rejected the claim, saying to media via cellular phone from unknown location that only two militants have been killed and four others sustained injuries.
He also stressed that militants by carrying out roadside bombings have inflicted heavy casualties to Afghan and NATO troops in Marja district, a claim denied by Afghan Defense General Minister Abdul Rahim Wardak.
In talks with media, Wardak asserted that only few soldiers sustained injuries since the beginning of the operation. The hardcore fighters in attempt to desperate and disperse the troops, retaliated the advancing NATO-led forces in the neighboring Kandahar by carrying out a suicide blast, killing one American soldier and injuring three others, according to local army officer captain Abdul Rahman.
But Yusuf Ahmadi put the number of casualties over a dozen soldiers, stressing all those killed in the suicide attack were Americans.
However, the NATO-led International Security Assistance Force ( ISAF) in a statement confirmed that "three ISAF service members from the United States died following an IED (Improvised Explosive Device) strike in southern Afghanistan today."
This is not the first time that the NATO-led forces launch such operation against Taliban militants in south Afghanistan particularly in Helmand province to consolidate government grip. In the past years, the troops had also launched operations against insurgents but failed to ensure lasting peace despite wiping out militants from several areas and hoisting the government flag.
As past experiences have proved, the troops by dislodging militants from Musa Qala and Sangin districts in the past years have failed to bring about viable stability as the militants gradually influenced their presence in rural areas and occasionally target government interests.
The militants who are veteran guerrillas had in the past vacated their trenches ahead of launching operations, apparently this time would follow the same tactic and resume hit-and-run attack when the troops stationed in barracks. Taliban spokesman also said that militants would engage the advancing troops by organizing roadside bombings in Marja district.

Still four districts, Bagran, Washir, Khan Shin and Desho, according to locals, are controlled by Taliban militants in Helmand province.
Recaptured Marja by the troops would demoralize militants in adjoining areas and eventually paves the way for evicting militants and ensuring durable peace in the militancy-ridden southern region. Restoring government control in Marja would also enable authorities to check poppy plantation and its product in Helmand and the neighboring provinces.
Since defending Marja is vital for Taliban in the southern region as well in the war-torn country, the militants, as they vowed to resist in guerrilla tactic and proved as headache for the troops with this perspective, would strike back once the troops secure the area and hand it over to Afghan police.