For the first time in over a decade, NATO leaders have re-written the alliance's conceptual base to draw up a blueprint which aims to equip the organization with tools to confront modern-day threats from rogue-state missile attacks and cyber-terrorism to drug smuggling and the effects of climate change.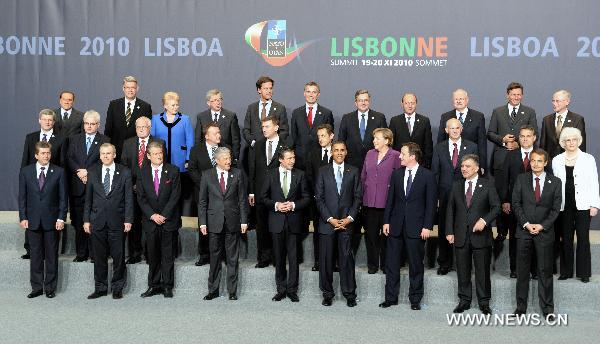 NATO leaders pose for a group photo at the venue of the NATO summit in Lisbon, capital of Portugal, Nov. 19, 2010. [Wang Qingqin/Xinhua] 
"This strategic concept will ensure NATO remains as effective as ever in defending our peace and security," NATO Secretary-General Anders Fogh Rasmussen said as he announced the agreement at a summit in Lisbon. "It also modernizes the way NATO does defense in the 21st century."
Key to the new strategy is a commitment by the 28 nations to invest in a missile defense system designed to detect an attack within seconds and shoot down incoming ballistic missiles with a network of interceptors. NATO will invite Russian President Dmitry Medvedev to link Moscow's own anti-missile defenses to the new system when he joins the summit on Saturday, ending years of tension over the scheme.
"In Lisbon we can make it clear that NATO sees Russia as a partner, not an adversary," U.S. President Barack Obama wrote in a newspaper article ahead of the summit. "By moving ahead with cooperation on missile defense, we can turn a source of past tension into a source of cooperation against a shared threat."
NATO leaders hailed the new vision as a historic turning point that ensures that the alliance founded to confront the Soviet Union six decades ago remains relevant more than 20 years after the end of the Cold War.
However, despite affirmations of confidence in the alliance's future, the summit still has to confront serious doubts about present-day realities.
The most prominent worries are how to successfully extricate allied forces from the increasingly deadly war in Afghanistan and the shrinking defense budgets of America's European allies which are casting doubt on their willingness and ability to take on the 21st-century security tasks defined in the new strategy document.
On Saturday, the allied leaders are expected to agree on a roadmap for ending their nine-year combat mission in Afghanistan, setting a 2014 target for a handover to Afghan security forces.
The gradual reduction of the 130,000-strong NATO forces is due to start in the middle of next year. By that time the alliance is hoping the ongoing surge of troops will have dealt a significant blow to the leadership of the Taliban insurgents.
However, the announcement in Kabul on Friday that the U.S. Marine Corps is stepping up engagement by deploying around 15 heavy tanks to Afghanistan for the first time underscored the allies' persistent difficulties in pacifying the country.