French political figures from both the right and left wings have called for prudence over a sex probe into Dominique Strauss-Kahn (DSK), a survey-favored candidate for 2012 presidential elections in France.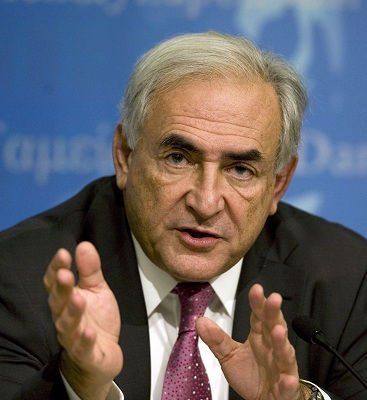 Dominique Strauss-Kahn, head of the International Monetary Fund (IMF), was taken off an Air France flight at JFK airport, having been accused of a sex attack on a hotel maid. [File photo]
Meanwhile, they expressed caution over Strauss-Khan's prospect in France's presidential elections after he was arrested in New York City on Saturday, reportedly on charges of sexually attacking a Manhattan hotel maid.
"The news which came from New York was like a thunderclap. Like the others I'm myself totally surprised. I call on everyone to wait for the truth of the facts and respect the presumption of innocence," Martine Aubry, general secretary of France's Socialist Party, was quoted as saying by RTL radio.
Strauss-Kahn, 62, is the leader of France's Socialist Party. He is believed to be the the main rival to French President Nicholas Sarkozy in the 2012 elections.
A recent survey published by French daily le Parisien said that 45 percent of the French surveyed saw Strauss-Khan, who is also the managing director of the International Monetary Fund (IMF), as France's next president.
Speaking to France's state-run TV channel France 2, Francois Baroin, Budget Minister and the government's spokesman, called for "an extreme prudence in the analysis of facts and comments".
"The position of the French government respects two simple principles. First (the respect) of judicial proceedings which are underway under the U.S. authorities and the respect of presumption of innocence," the minister said.
"We will not go further on our comments," Baroin added.
Dominique Strauss-Kahn was implicated in 2008 for a sex affair with a female IMF staffer of Hungarian origin. He had apologized in public for "misjudgment" and was exonerated of abuse of power by an internal investigation.
"I think his candidacy has just recorded today a halt particulary as the word will be released and show that Mr. Strauss-Kahn seems to have a behavior known by all for many years (and) hidden by all because it is the system in France," said Marine Le Pen, general secretary of the far-right National Front.
Jacques Attali, former councilor of France's late president Francois Mitterand, said things will change after the arrest of Strauss-Khan for alleged sexual attack.
"The international political situation will change. The International Monetary Fund will have at least an interim CEO and I do not think, except in handling this case that DSK will be candidate for the presidential elections," Attali told a local private radio.