On May 18, over 120 Chinese students took part in a special educational exchange with local government and community leaders and European students in the famous port city of Antwerp, Belgium to commemorate EU Youth Week and the "EU-China Year of Youth".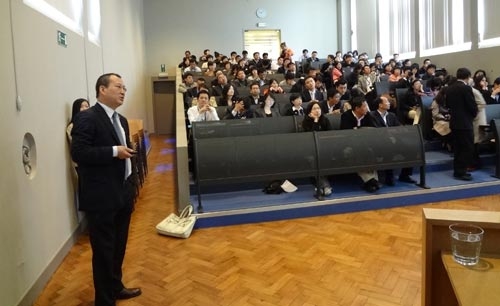 Liu Guojin, Expert Counselor for the Far East Department at the Port of Antwerp in Antwerp, Belgium, introduces the port's unique management and logistics system to 120 young Chinese delegates at an information session on May 18, 2011. [Wang Zhiyong/China.org.cn] 
Delegates toured the Port of Antwerp and got a chance to learn about the port's unique all-in-one management and logistics system. In the afternoon, the delegates joined over 100 European students at an international talent roundtable at Antwerp Management School.
Antwerp Management School Dean Philippe Naert, who gave the introductory speech at the roundtable, described the school's efforts to strengthen EU-China relations.
"We enroll full-time graduates from China every year, and train them as global citizens to become future leaders," Naert said. In addition, Naert said academic exchanges and other cooperation with Chinese institutions were increasing. "We increasingly cooperate with academic institutions in China. Last year, we signed a cooperative agreement with Shanghai," he said.
Cathy Berx, the governor of the province of Antwerp, described EU-China exchanges at the provincial government level. Antwerp is twinned with China's Shaanxi province, and maintains a representative office in Chongqing, Berx said.
Asad Beg, Desk Officer for China and Mongolia at the European Commission, who also spoke at the roundtable, said EU-China relations are based on three pillars of "over 35-years of political relations, trade relations, and personnel exchanges."
Ma Yansheng, Counselor for Education at the Chinese Mission to the EU, spoke to delegates on the relationship between talent and education in the 21st century.
"Education is the cornerstone of a country's prosperity, national rejuvenation and social progress. Human resources are the primary resources in economic and social development, and knowledge and skills are essential to improve comprehensive national strength and international competitiveness. Education plays a fundamental role in improving a nation's quality," Ma said.
The EU-China Year of Youth is the first year-long themed international cooperation program since the establishment of diplomatic relations between the EU and China. The idea originated from leaders on both sides and was jointly proposed by Chinese Premier Wen Jiabao and EC President José Manuel Barroso in 2009, Beg said.
This year's EU Youth Week (May 16-20) has held special significance due to the events attended by Chinese delegates. On May 17, the Chinese delegation joined 250 young delegates from EU member countries in Brussels to launch Youth Open Day.