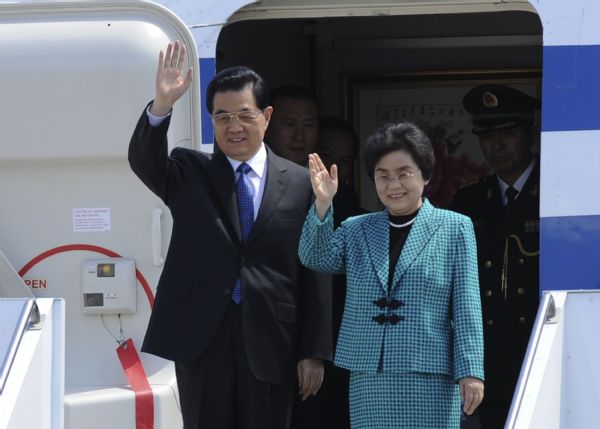 Chinese President Hu Jintao (L) and his wife Liu Yongqing arrive in Astana, capital of Kazakhstan, June 12, 2011, for a state visit and an annual summit of the Shanghai Cooperation Organization (SCO). [Photo/Xinhua]
Chinese President Hu Jintao arrived in Astana, capital of Kazakhstan, Sunday for a state visit and an annual summit of the Shanghai Cooperation Organization (SCO).
During his visit, Hu and his Kazakh counterpart Nursultan Nazarbayev are expected to have talks on the further development of the strategic partnership between China and Kazakhstan.
Over the past 19 years since China and Kazakhstan established diplomatic ties, bilateral ties have developed steadily. In 2005, the two countries formed the strategic partnership.
In recent years, the two countries have maintained constant exchanges of high-level visits, expanded pragmatic cooperation in various sectors, and had closer coordination in dealing with world and regional affairs.
Nazarbayev paid a visit to China in February. During his stay in China, Nazarbayev and President Hu discussed ways of boosting their strategic partnership and bilateral cooperation. The two countries inked a series of cooperation agreements.
"China highly values its ties with Kazakhstan and regards the country as a priority in its foreign policy," Chinese Assistant Foreign Minister Cheng Guoping told a press briefing on Tuesday.
He said China expects to lay a foundation for the future development of Sino-Kazakh relations by further boosting mutual cooperation with the central Asian nation, especially on issues related to the key concerns of the two countries.
Cheng also voiced his hope that the two nations will expand cooperation in the fight against terrorism, separatism and extremism, and intensify their coordination in regional and international organizations.
In Astana, the Chinese leader will attend the SCO summit slated for Wednesday.
This year marks the 10th anniversary of the founding of the SCO. In the past decade, the SCO has played a positive role in promoting regional peace and stability, and advancing economic and social development of member states.
At the Astana summit, the leaders will review the development of the SCO over the past decade and map out a blueprint for the organization for the next decade.
At the SCO foreign ministers' meeting in Almaty, Kazakhstan, last month, Chinese Foreign Minister Yang Jiechi proposed setting goals for the SCO development in the next decade, including creating a long-term mechanism for maintaining regional stability, strengthening economic functions, deepening cultural and people-to-people exchanges, and building an open, cooperative, pragmatic partnership network not targeted at third parties.
Founded on June 15, 2001, the SCO groups China, Russia, Kazakhstan, Kyrgyzstan, Tajikistan and Uzbekistan.
Kazakhstan is the first leg of Hu's three-nation tour. Hu will travel to Moscow from Astana for a state visit. He will also attend the St. Petersburg International Economic Forum and visit Ukraine.