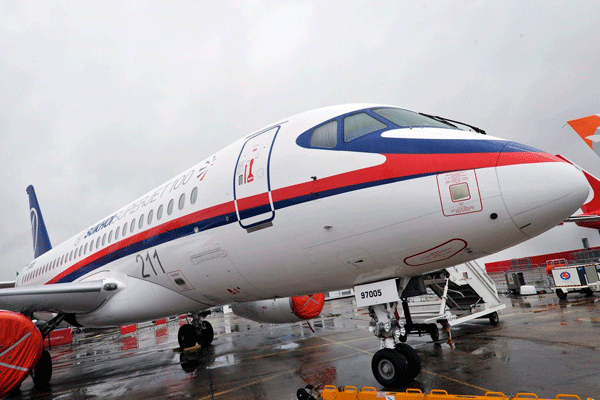 A file picture dated 21 June 2011 shows a Sukhoi Superjet 100 airplane on the tarmac at the Paris Air Show 2011 at Le Bourget, Paris, France.
Search and rescue was underway after a Russian-made commercial plane with at least 46 people on board went missing on Wednesday in West Java, Indonesia, spokesman of Transport Ministry Bambang Ervan said.
The Sukhoi super jet 100 carrying Russian businessmen and officials of Russian embassy in Jakarta lost contact during a promotion flight, Ervan told Xinhua by phone.
Military spokesman Iskandar Sitompul told Xinhua that some Indonesians were among those on board.
The plane, taking off from Indonesian airbase Halim Perdana Kusuma in East Jakarta, lost contact at 14:25 Jakarta time (07:25 GMT) while trying to descend from 10,000 feet to 6,000 feet near a small airport in Bogor on its way back to the airbase, said Ervan.
He said that the plane was involved in the second flight for about 30 minutes shortly after the first successful flight.
Ervan said that there was no report of bad weather.